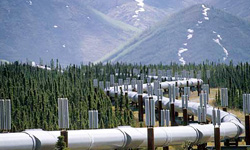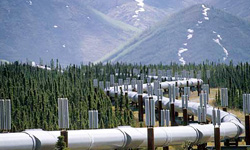 Implementation of the Friendship Gas Pipeline project which is due to take Iran's rich gas reserves to Iraq and Syria was agreed by the Iraqi government, an Iraqi cabinet statement announced.
A Tuesday Iraqi cabinet statement said that Iraq's Minister for Petroleum Abdel Kareem Luaibi had been authorized to sign the "framework of the agreement" on setting up the strategic pipeline that would also prepare the ground for exporting Iranian gas to Europe through Syria in the future.
The statement added that Luaibi had recently held talks with his Iranian counterpart Rostam Qassemi and Managing Director of the National Iranian Oil Company (NIOC) Ahmad Qalebani in Tehran regarding the issue.
Late in January, Iranian Oil Ministry Spokesman Alireza Nikzad Rahbar said the country will start exporting natural gas to Baghdad by next summer via an under-construction pipeline between the two countries.
He said that the "friendship" pipeline project between Iran, Iraq and Syria is the most important project currently pursued by the ministry.
The official said if the project is carried out according to schedule, the gas pipeline between Iran and Iraq will be completed next summer, adding that tripartite talks are underway to extend the pipeline to Syria.
He noted that the pipeline would be designed in such a way that it would be able to deliver gas to other Muslim countries like Jordan and Lebanon in the future.
The oil ministers of Iraq, Iran and Syria had signed a preliminary agreement for a $10 billion natural-gas-pipeline deal on July 25, 2011, in Assalouyeh industrial region located in the Southern province of Bushehr.
Iranian oil officials then said Syria would purchase between 20 million to 25 million cubic meters a day of Iranian gas while Iraq had also already signed a deal with Tehran to purchase up to 25 million cubic meters a day to feed its power stations.
The main project, 1,500 km length of piping Assalouyeh gas to Damascus requires $10 billion investment.
The pipeline will transfer a capacity of 110 million cubic meters of natural gas a day to Damascus.
The gas will be produced from the Iranian South Pars gas field in the Persian Gulf, which Iran shares with Qatar, and holds estimated reserves of 16 trillion cubic meters of recoverable gas.
Iranian officials have said that Tehran also aims to extend the pipeline to Lebanon and the Mediterranean to supply gas to Europe.