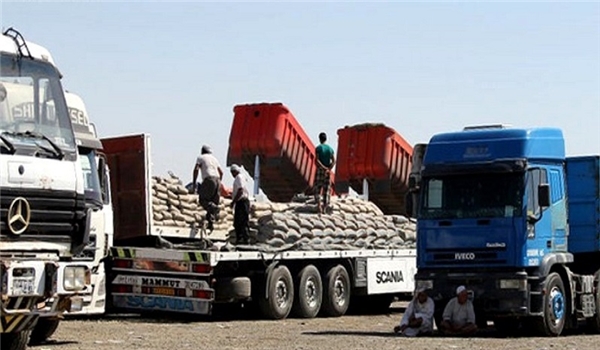 Iran's exports at borders have been three times more than imports and there are no road-blocks for exports, Caretaker of the Ministry of Industry, Mine and Trade Hossein Modares Khiabani said.
"We have put on the agenda to make 100 projects operational with 170bln tomans (over $40mln) credit which will create400,000 job opportunities," Khiabani said.
He noted that the private sector is clever and there are $400mln worth of goods at ports, 1 million tons of goods are stored and 700 tons are being unloaded at ports.
The official underlined that 60% of the exports are being carried out through borders.
A relevant report said on May 31 that the Southern Province of Bushehr exported commodities to 28 countries within two months of the current Iranian year (started March 20, 2020), an official with the provincial customs office announced on Sunday.
The goods have been exported to 18 Asian, six European, three African and a South American country, Behrouz Qarabeigi said.
Last year, some 39 countries were the destinations of export from this province, the official added.
During the period, the province has exported over 3.7 million tons of goods worth over $823 million, he noted.
He named petrochemical products, vegetables, minerals, and gas condensate as main commodities exported from Bushehr to many countries across the world.
Despite the cruel sanctions against Iran, the volume of exports from different Iranian cities indicates the efforts at the national economic sectors to develop trade exchanges with other countries, he concluded.
In relevant remarks in March, Qarabeigi said that non-oil exports from Iran's Southern province of Bushehr has posted a 20% jump in terms of weight in the past 11 months since late March 2019, in comparison with the corresponding period in the last year.
He said on March 15, that over 22 million tons of non-oil goods were exported from the province's customs office during the 11 months of the current local calendar year which started on March 21, 2019.
The official added that the exported items excluding gas condensates in Bushehr province were worth about $ 7.151 billion, up 20 percent from the same period a year earlier, in terms of weight.
Bushehr is considered as Iran's main exports hub. Around 37.8 million tons of commodities worth $15.08 billion were exported from Bushehr during the last fiscal year (March 2017-18).
Qarebigi noted that during this period, Bushehr province's customs exports, including gas condensate, amounted to about 23 million and 19 thousand tons of goods worth over $ 7 billion and 669 million.
He ​​also said that the main export commodities of Bushehr province include petrochemicals, gas condensates, minerals, aquatic, vegetable and poultry.
He said most of the province's goods were exported to China, the United Arab Emirates, India, South Korea, Qatar, Pakistan, Brazil, Turkey and Malaysia.
Iranian officials started planning for policies to counter the US possible sanctions a year before US President Donald Trump entered into office in early 2017. The policies are now proving effective as economic indexes are indicating inefficacy of the US pressures.
Washington's unilateral sanctions against Tehran began in November 2018, five months after US President Donald Trump withdrew from an international deal on Iran's nuclear program.
Claiming that the bans were working properly, Trump tightened them in May 2019, only to see that Iran was finding new solutions to recoup the losses.
Early in July, Iranian Industry Minister Reza Rahmani said that despite US efforts to cripple Tehran's economy, year-on-year comparison showed that the country's domestic production increased in the first quarter of the local calendar year (March 21-June 21).
Early in January, Iranian Minister of Roads and Urban Development Mohammad Eslami said that the country's exports have outpaced imports despite the harsh US sanctions.
Iran is the only state in the world without foreign debt as the country's trade balance is now positive and exports have surpassed imports, Eslami said.
A great deal of development in the civil, water, electricity, gas and utility sectors have been made, and during the outrageous sanctions, the country has become a manufacturing workshop, he added.
In relevant remarks in December, Deputy Head of Iran Trade Development Organization Farhad Nouri said that the Iranian factories and manufacturers which were reliant on parts and intermediary products for their production are now either producing their needs themselves or buying them from their compatriot partners, adding that this is the plus point of US' unilateral sanctions.
Sanctions are not a blessing but they have prepared the ground for economic activists to make efforts and the factories that imported their raw materials for more than two decades are now either producing themselves or buy them from local units, Nouri said in Arak, the central city of Markazi province.
He added that all types of goods worth 31.9 billion dollars were exported from Iran over the past nine months, reminding that trade worth of 63 billion dollars under the current economic condition is indebted to concerted efforts of the economic activists.
Nouri further noted that China, Iraq, UAE, Afghanistan and Turkey are major destinations for the Iranian exports while Turkey, UAE and Germany are biggest Iranian trade partners in field of imports.