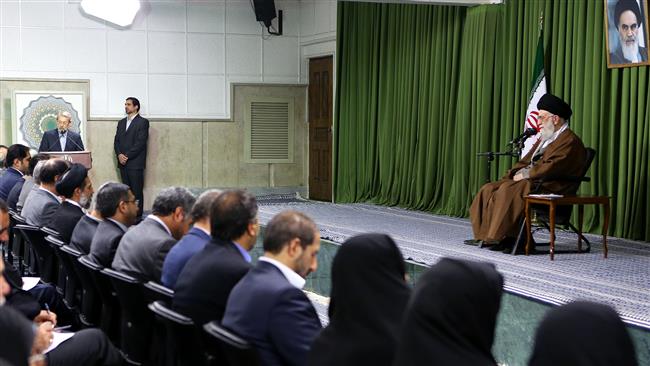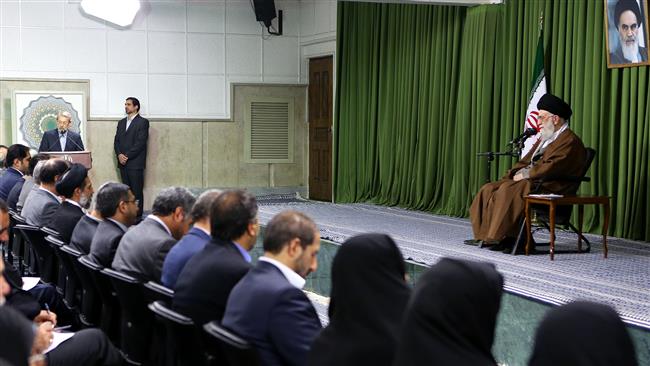 Leader of the Islamic Revolution Ayatollah Seyyed Ali Khamenei says Iranian officials must stand firm on the country's stance during nuclear negotiations with the P5+1 countries to secure the nation's interests.
"On the nuclear issues, [Iran's] stance is the same as we have explicitly announced; the very same points have been announced to authorities verbally and in writing. These are the fundamental positions of the Islamic establishment," Ayatollah Khamenei said in a Wednesday meeting with Iranian Parliament (Majlis) Speaker Ali Larijani and lawmakers.
The Leader added that the settlement of the country's nuclear issue will be facilitated by tapping into domestic potential.
"If we boost production and use domestic potentialities, [this will] not only solve local problems, but facilitate the settlement of foreign issues such as the nuclear one," said the Leader.
Ayatollah Khamenei stated that the Iranian nuclear negotiating team is making genuine efforts to settle the issues pertaining to the country's nuclear program.
Ayatollah Khamenei further noted that Iran also has a look to issues other than the country's nuclear program in its dealing with the West.
"Within the framework of the issues that we have with the US, West and Zionism, we also foresee numerous topics other than the nuclear issue such as human rights, but if we focus on domestic capabilities … it will be easy to settle these issues as well," the Leader underlined.
"I know that we are faced with a lack of resources, and sanctions have contributed to the shortage of resources. Find the solution," the Leader said.
"The solution is to economize," said the Leader, adding priorities should be taken into account.
The Leader emphasized that a lack of resources should not be used as an "excuse" to refrain from "doing one's job."
Ayatollah Khamenei then urged legislators to "insist on the [Islamic] establishment's principled stances."
If there is no such insistence by the lawmakers, said the Leader, the country will face many dangers.