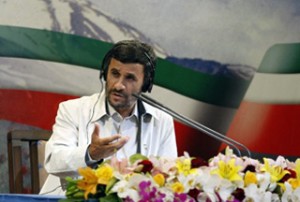 Iranian President Mahmoud Ahmadinejad says the Organization of the Islamic Conference (OIC) could play a leading role in global nuclear disarmament.
President Ahmadinejad made the remarks in a meeting with OIC Secretary General Ekmeleddin Ihsanoglu on the sidelines of the Tehran nuclear disarmament conference.
The two-day international conference aims to pave the way for the nuclear non-proliferation regime to achieve its objectives of global disarmament.
Emphasizing that nuclear-armed countries should not be allowed to lead disarmament efforts, Ahmadinejad said the OIC should play a leading role in the matter.
Ihsanoglu described the ongoing conference in Tehran as positive and constructive. He also stressed that OIC backs Iran's peaceful nuclear activities.