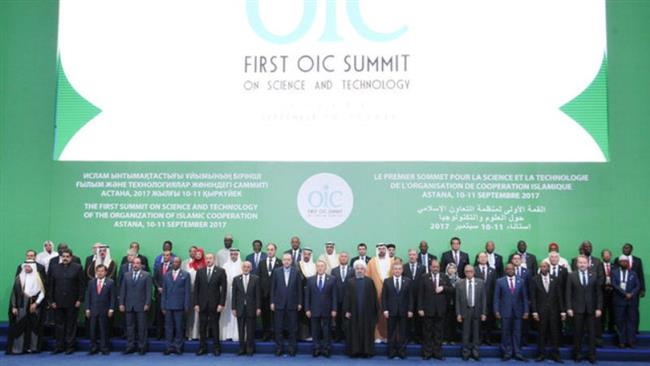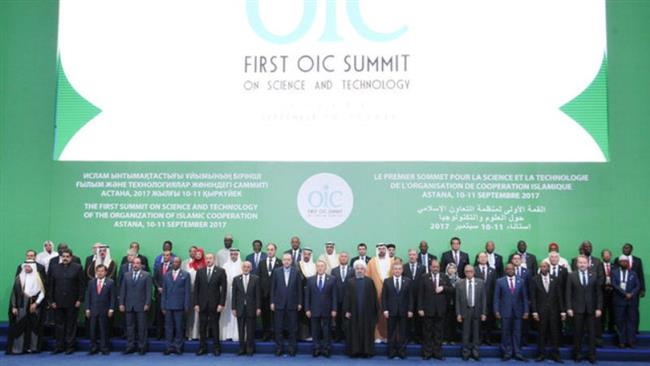 The world's largest Muslim organization has called on Myanmar to allow United Nations investigators into a violence-stricken state in the country where the military and Buddhist mobs are conducting "systematic brutality" against minority Muslims.
The 57-member Organization of Islamic Cooperation (OIC) made the call after an emergency meeting on the sidelines of a technology conference in Astana, Kazakhstan, on Tuesday.
Myanmar's military stepped up a crackdown on Rohingya Muslims on August 25, after dozens of police and border outposts in the northern state of Rakhine allegedly came under attack by an armed group that is said to be defending the rights of the Rohingya.
The Rohingya, who had already been under a military siege in Rakhine since October 2016, are being brutally killed, raped, or forced to leave their homes as their villages are being set on fire.
Leader of the Islamic Revolution Ayatollah Seyyed Ali Khamenei on Tuesday censured the Myanmarese government for the violence, and said the OIC had to convene to discuss the crisis.
Iran's Red Crescent to ship aid
Meanwhile, the Iranian Red Crescent Society (IRCS) says it has prepared a first batch of a total of 160 tons of humanitarian aid cargo for shipment to the Rohingya refugees in Bangladesh.
IRCS Director Mostafa Mohammadiyoun said 40 tons of the cargo, including food, water, and medical supplies, would be delivered to the Rohingya on Wednesday.
The IRCS also voiced readiness to set up makeshift hospitals for the Muslim refugees in Bangladesh.
The UN estimates that at least 370,000 Rohingya have fled to neighboring Bangladesh since late last month. Many of those who have managed to take refuge in the country say Myanmarese soldiers and Buddhist mobs have been attacking civilians and burning down their homes.
Rohingya Muslims are denied citizenship in Myanmar and regarded as illegal immigrants from Bangladesh.
UN accused of ignoring 'ethnic cleansing' of Rohingya
Meanwhile, two human rights groups have joined the chorus of international voices against the violence taking place against Rohingya Muslims.
Human Rights Watch and Amnesty International representatives said at a joint press conference at the UN headquarters on Tuesday that the Security Council had so far failed to speak out against the "ethnic cleansing" of the Rohingya and to immediately demand an end to the atrocities.
The UNSC is set to convene for discussions on the Rohingya crisis later today.
'Bangladesh prevents Rohingya entry' 
Bangladesh has instructed the security forces on its border not to allow any more Rohingya refugees in, according to a Bangladeshi border guard officer, Monzurul Hassan Khan.
"Innocent women and children were rushing toward the border out of the fear of life, it's a life and death question for them," he said. "Firing was happening inside their country."
Khan said 8,000 to 10,000 Rohingya had camped in some hundreds of tarpaulin bamboo shacks on paddy fields and flooded land after crossing the border. He said officers with automatic rifles were keeping watch on them.
Myanmar has reportedly planted landmines across an area of its border amid the flow of refugees fleeing violence.
Reports from Bangladesh's side of the border say a number of people have been arriving with their legs blown off.
Over 200,000 Rohingya children need urgent help: UNICEF
The United Nations Children's Fund (UNICEF) has warned that more than 200,000 Rohingya children need urgent support in Bangladesh.
Bangladesh Chief of UNICEF's Child Protection Jean Lieb warned on Tuesday about "an unprecedented influx of Rohingya refugees" into Bangladesh, saying more than 330,000 people have now taken refuge in the country since August 25.
"I am particularly concerned for children separated from their parents or caregivers," Lieb said. "We have identified 1,128 separated children so far. However, we expect this number to increase a lot in the coming days."
Lieb said UNICEF was sending additional supplies to Cox Bazar from the Bangladeshi capital, Dhaka, and from Copenhagen, Denmark, where UNICEF's supply hub is located, explaining that more help was needed "as the refugee population continues to grow."
US 'deeply troubled' by Rohingya killings
The United States also recently reacted to the humanitarian crisis in Myanmar. White House spokeswoman Sarah Huckabee Sanders said on Tuesday that the US condemned the violence between Rohingya Muslims and Myanmar security forces.
She said the White House was "deeply troubled" by the crisis.
McCain drops plan to expand ties with Myanmar
In another reaction from the US, Congressman John McCain, who is the Republican chairman of the Senate Armed Services Committee, said that he would no longer support plans to expand military ties with Myanmar.
McCain said he would remove language from a bill authorizing defense spending that would have expanded US military cooperation with Myanmar.
"I can no longer support expanding military-to-military cooperation given the worsening humanitarian crisis and human rights crackdown against the Rohingya people," he said.
McCain further said that Myanmar's leader Aung San Suu Kyi had so far ignored calls from the international community to stop the violence.
Suu Kyi cancels plan to attend UN meeting
Suu Kyi, who has come under intense criticism by the world community over her inaction, has now scrapped plans to attend an upcoming UN General Assembly meeting in New York on September 20, her office said on Wednesday.
A spokesman, Zaw Htay, said she would not be attending the assembly meeting this year because "she is trying to control the security situation, to have internal peace and stability, and to prevent the spread of communal conflict."
The Nobel Peace Prize winner has done almost nothing to end the violence in Rakhine. She recently claimed that the widespread reports of killings and rape against the Rohingya were fake news.
An international campaign has been launched to call on the Nobel Peace Prize Committee to take back its 1991 prize to Suu Kyi.