Iraq
Oil exports of Iraqi Kurdistan must be under Baghdad control: PM Abadi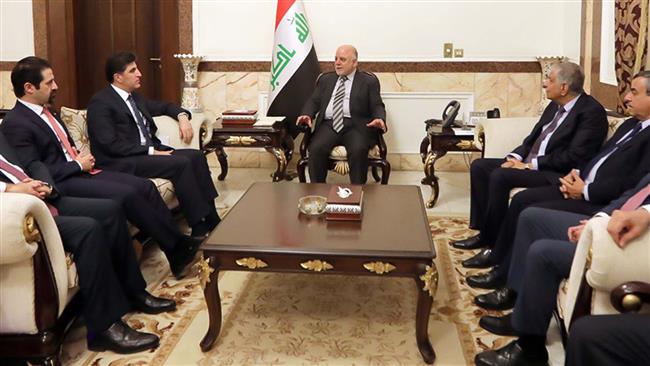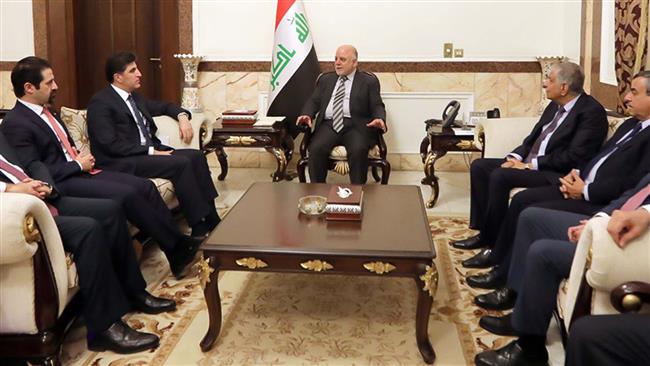 The Iraqi prime minister has called on the country's semi-autonomous Kurdistan region to stop independent oil exports, saying the crude produced there must be placed under the central government's control.  
Haider al-Abadi made the comments on Saturday during his first meeting with Nechirvan Barzani, prime minster of the Kurdistan Regional Government (KRG), following the controversial secession referendum held in the northern region last September.
During the talks, Abadi further reiterated his conditions for lifting restrictions imposed on the Kurdistan region in the aftermath of the controversial plebiscite, including a direct international air travel ban.
According to a statement issued by Abadi's office, the Baghdad government wants the airports and border crossings in the Kurdistan region to fall back under the control of the federal power.
"They also discussed an oil-for-budget proposal, pending the approval of PM Abadi that will allow the KRG to receive its share of the budget in return for allowing the Iraqi government to export and sell oil produced by the Kurdish government," the website of Kurdish-language Rudaw television network reported.
Abadi also reaffirmed the "position of the [Iraqi] government that it is necessary to commit to the borders of the [Kurdistan] Region as stipulated by the constitution," according to the statement.
In September 2016, the KRG defied stern warnings from Baghdad and overseas and held the referendum on separation from mainland Iraq. Kurdish officials said a majority of people said 'Yes' to secession.
However, Iraq's Supreme Federal Court, which is responsible for settling disputes between the central government in Baghdad and the country's regions, later ruled that the vote was unconstitutional.
In response to the vote, Abadi ordered government forces to dislodge Kurdish Peshmerga militia from disputed regions including the oil city of Kirkuk, dealing yet another blow the KRG's oil revenues. Baghdad had cut the Kurdish budget in 2014 in response to the KRG's plans to export oil via Turkey's Ceyhan port without the consent of the central government.
Among other things, Baghdad banned direct flights to the region, and conducted a military campaign to retake the areas overrun by Kurdish militants in the course of the fight with Daesh terrorists.
Baghdad has urged Erbil to meet its conditions in exchange for the restrictions to be lifted.
Following talks with Abadi, Barzani is due in Tehran at the head of a Kurdish delegation on Sunday for talks with senior Iranian officials, including President Hassan Rouhani.
The Islamic Republic cooperated with Baghdad after the referendum by shutting down its crossings with the Kurdish region. Tehran later reopened those crossings after Erbil chose dialog and cooperation with Baghdad.
Earlier this week, Barzani had said Erbil is on the right path to mend ties with neighboring Iran and Turkey, which strongly opposed the Kurdish vote.