Syria
'Only Syrian solution ends Syria crisis'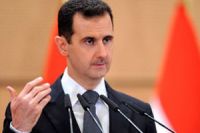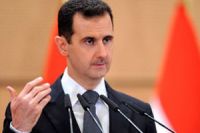 Syrian President Bashar al-Assad has called for a "Syrian solution" as the only way to put an end to the current unrest in the Middle Eastern country. According to Press TV, Assad made the remarks in an interview with Lebanese TV, Al-Mayadeen, on Monday, saying that such a solution must be found, regardless of whether it is recognized by foreign powers or not. He further noted that its recognition by Syrians matters the most.
The Syrian president also said that he "sees no obstacle" to his re-election bid in 2014 presidential polls.
He said "Personally, I don't see any obstacles to being nominated to run in the next presidential elections."
Assad has reiterated that he is not holding onto power and only the will of Syrian people would influence his decision and the fate of the nation in next year's presidential election.
he said "As for people's desire, it is too soon to talk about it. We can only discuss it when the election date is announced."
On May 30, in an interview broadcast by the Lebanese television Al-Manar, Assad said he would seek re-election if the Syrian people want him.