Syria
OPCW to deploy 2nd team to Damascus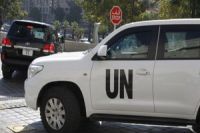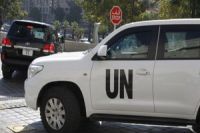 The world's chemical watchdog says it plans to deploy a second team of experts to Syria to help an existing group in Damascus tasked with destroying the country's chemical arsenal.
Without providing more details, the Organization for the Prohibition of Chemical Weapons (OPCW) said on Tuesday, "That will augment the advance team of OPCW experts, who have been in Syria since 1 October conducting verification and destruction activities" .
Meanwhile, the group currently in Syria said some facilities used to operate chemical weapons had already been disabled.
The team has until November 1 to inspect the chemical weapons arsenals declared by the Syrian government and supervise the destruction of the related facilities.
Also on Tuesday, Russian President Vladimir Putin hailed Syria for cooperating "very actively" with the international experts in the Arab country, saying the Syrian government "is acting in a transparent manner, helping international agencies."
The Russian president, who was attending a summit of the Asia-Pacific Economic Cooperation (APEC) forum in Indonesia, stated that he had discussed the situation in Syria with US Secretary of State John Kerry, who is standing in for US President Barack Obama at the summit.
The expert team in Syria is implementing a UN resolution on scrapping the Syrian chemical arsenal. The United Nations Security Council approved the resolution on September 27.