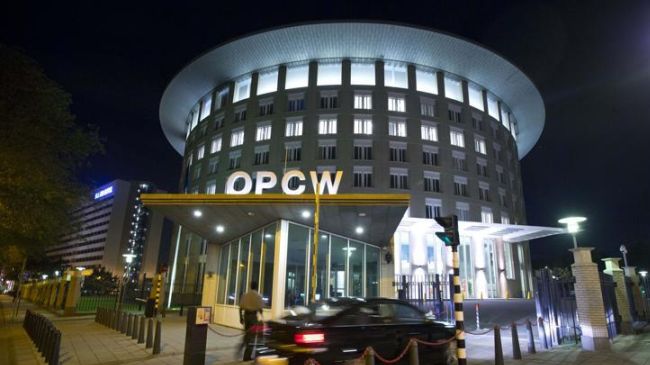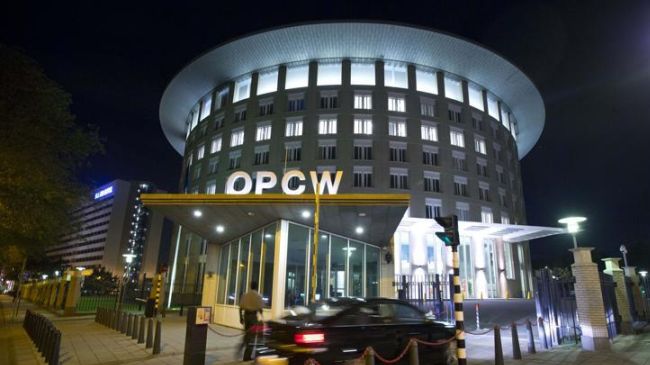 The Organization for the Prohibition of Chemical Weapons (OPCW) has opened its week-long conference, whose agenda is topped by getting Syrian chemical stockpiles out of the country by the year-end for final destruction.
The OPCW'S Conference of the States Parties to the Chemical Weapons Convention began on Monday at the organization's headquarters in The Hague, the Netherlands.
OPCW administers the Chemical Weapons Convention (CWC), which is an arms control treaty that outlaws the production, stockpiling and use of chemical weapons and their precursors.
The conference is held at a time when the organization is in the process of removing Syrian chemical stockpiles from the country before December 31 deadline.
Head of the joint UN-OPCW team, Sigrid Kaag, has said that her mission would pack, seal and transport the chemical agents to Syria's Mediterranean port of Latakia.
From there, the material is to be transported to a US vessel for final destruction, which according to Kaag, would not be destroyed in Syria's territorial waters.
The removal is a part of a deal struck by Russia and the United States in September under which Syria will have its chemical weapons eliminated to head off planned strikes on the Arab country by the US.
The war rhetoric against Syria intensified after foreign-backed opposition forces accused the government of President Bashar al-Assad of launching a chemical attack on militant strongholds on the suburbs of the capital Damascus on August 21.
Damascus has vehemently denied the accusations, saying the attack was carried out by the militants themselves as a false-flag operation.
Syria has been gripped by deadly unrest since 2011. According to reports, the Western powers and their regional allies – especially Qatar, Saudi Arabia, and Turkey – are supporting the militants operating inside the country.