Latin America
Opposition supporters clash with police in Honduras as protests continue over election results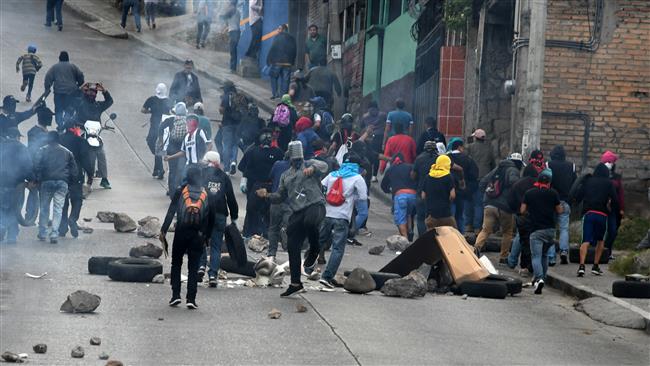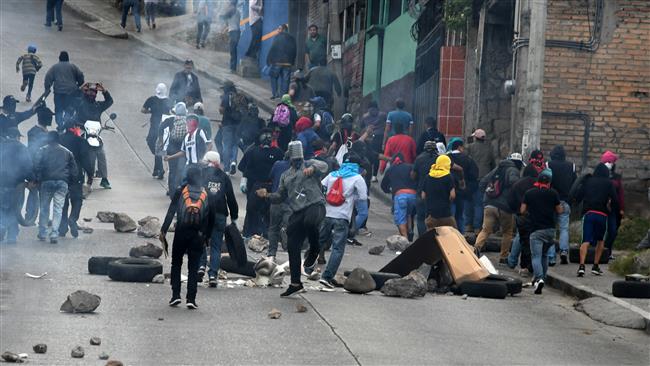 Police and protesters have clashed in Honduras' capital and across the Central American country, amid growing discontent over the disputed re-election of President Juan Orlando Hernandez.
Violence erupted on Saturday after protesters blocked roads in several locations and police moved in to break up the barricades set across the capital, Tegucigalpa, and elsewhere in the country.
Security forces fired tear gas at the rock-throwing supporters of the center-left Opposition Alliance against the Dictatorship in Tegucigalpa and tried to clear roadblocks of burning tires.
"Out with JOH, out with the dictator," masked protesters shouted in Tegucigalpa's Miraflores neighborhood, using President Hernandez's initials.
The opposition had days earlier called for a "national strike" on January 20 to block the country's main roads and highways prior to the start of the president's new term in office on January 27.
Local media and security sources reported that at least one protester had lost his life and three police officers had sustained injuries in the Saturday clashes. Twelve other demonstrators were also detained across the country.
Former President Manuel Zelaya has thrown his support behind the protesters on behalf of presidential opposition candidate Salvador Nasralla, who claims there was widespread fraud in the November 26 election.
"We have to stay in the streets," Zelaya said. "If they move us from one spot, we have to move to another. We need to be permanently mobilized to keep up the pressure and prevent the dictator from installing himself."
Controversy erupted when the electoral body in Honduras, the Supreme Electoral Tribunal, delayed the announcement of the results several times after the presidential election in November last year. Nasralla, who had been initially in the lead, saw his margin collapse with each delay and finally fell behind Hernandez.
Final results showed the sitting president in the lead only by a razor-thin margin, and Hernandez, a staunch US ally, was officially declared the winner of the elections last month despite strident protests over the vote count.
At least 22 people have been killed in unrest ever since.