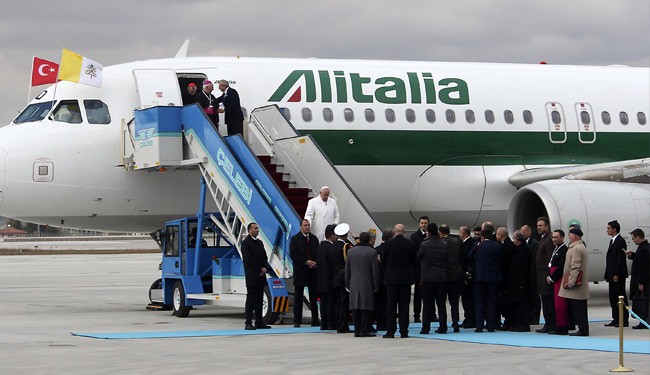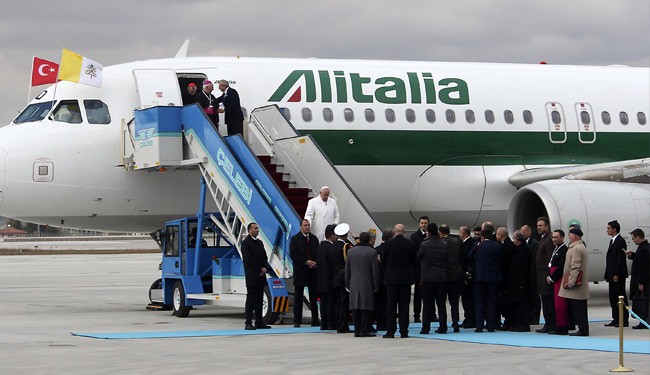 Pope Francis will be walking straight into a controversy when he visits Turkish President Recep Tayyip Erdogan's huge new palace on once-protected farm land and forest in Ankara, becoming the first foreign dignitary to be hosted at the lavish, 1,000-room complex. Ak Saray is the most luxurious and controversial palace in modern Turkish history. The palace, which dwarfs the White House and other European government palaces, was built at an official cost of 620 million US dollars.
It has drawn the ire of opposition parties, environmentalists, human rights activists and architects who say the construction is too extravagant, destroyed important forest land and went ahead despite a court injunction against it.
Erdogan brazenly dismissed the court ruling saying: "Let them knock it down if they have the power."
The Ankara branch of the Turkish Chamber of Architects sent a letter to the pope this month, urging him not to attend the welcoming ceremony on Friday at the "illegal" palace.
"We didn't mean to tell him not to come to Turkey, obviously. We meant to tell him not to visit the 'unlicensed palace'," said Tezcan Karakus, president of the Ankara branch of the Turkish Chamber of Architects.
"Universal principles of law have been violated here, highly valued public spaces for the people have been seized, 3,000 trees have been cut down."
Vatican spokesman, father Federico Lombardi, brushed off the request, saying Francis was invited to visit by the Turkish government and will go where the Turkish government wishes to receive him.
When a pope last visited Turkey – Benedict XVI in 2006 – Muslim-Catholic tensions were so high that the Vatican added a stop at Istanbul's famed Blue Mosque at the last minute in hopes of showing Benedict's respect for Islam.
This Papal visit has not stirred much interest in Ankara and is barely present in local media, making only the seventh page of a local newspaper.Asked about their feelings about the visit, many Ankara residents appeared surprised, as they had not even known about the trip.
The pontiff's visit comes amid new Muslim-Christian tensions and war next door, with so-called Islamic State militants seizing chunks of Iraq and Syria and sending 1.6 million refugees across the border into Turkey.
Francis is expected to tread lightly during his three-day visit, sensitive to the delicate diplomatic tensions at play between Turkey and the international coalition fighting the ISIS.
But Vatican officials say he will not shy from denouncing violence in God's name and voicing concern for Christians being targeted by the extremists.
Remarkably, though, Francis will not meet with any groups of refugees as he has done on previous trips to the region, a clear sign of the Vatican's unwillingness to wade too deeply into the conflict.
Technically speaking, the real reason for the visit is for Francis to visit the spiritual leader of the world's Orthodox Christians, Patriarch Bartholomew I.
The two major branches of Christianity represented by Bartholomew and Francis split in 1054 over differences in opinion on the power of the papacy, and the two spiritual heads will participate in an ecumenical liturgy and sign a joint declaration in the ongoing attempt to bridge the divide and reunite the churches.