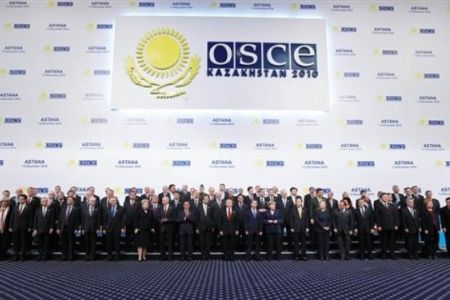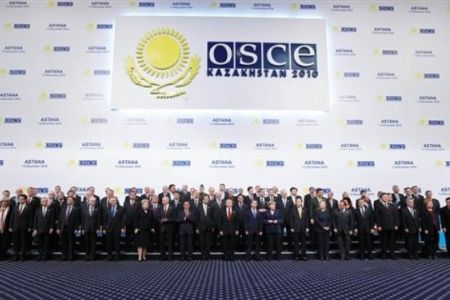 The seventh summit of the Organization for Security and Cooperation in Europe, (OSCE) has commenced in Kazakhstan's capital Astana.
The meeting aims to heal conflicts across Europe and the former Soviet republics.
Some 38 heads of state and several prime ministers are attending the summit, among them Russian President Dmitry Medvedev, French President Nicolas Sarkozy, the German Chancellor Angela Merkel and US Secretary of State Hillary Clinton.
The UN Secretary General Ban Ki-moon will also take part.
It is the OSCE's first summit in more than a decade. The previous meeting was held in Istanbul in 1999.
The gathering of the 56 member states has been overshadowed by the release of secret dialogues made by American diplomats, many of which characterize foreign leaders in decidedly unflattering terms.
The US State Department Cables were made public by the whistleblower website WikiLeaks last week.
Among those who were insulted by US diplomats were Kazakh elites, who were described as leading overly lavish lifestyles and having an excessive fondness for alcoholic beverages.
It is believed that during her four-nation diplomatic tour which will take Clinton to Kazakhstan, Kyrgyzstan, Uzbekistan and Bahrain, the US secretary of state will try to mend ties damaged by the WikiLeaks' latest release.
The OSCE is the world's largest security-oriented intergovernmental organization.
Its 56 participating states are in Europe, the Caucasus, Central Asia and North America and cover most of the northern hemisphere.
Its mandate includes issues such as arms control, human rights, freedom of the press and fair elections.
The organization was established during the Cold War era as an East-West forum.