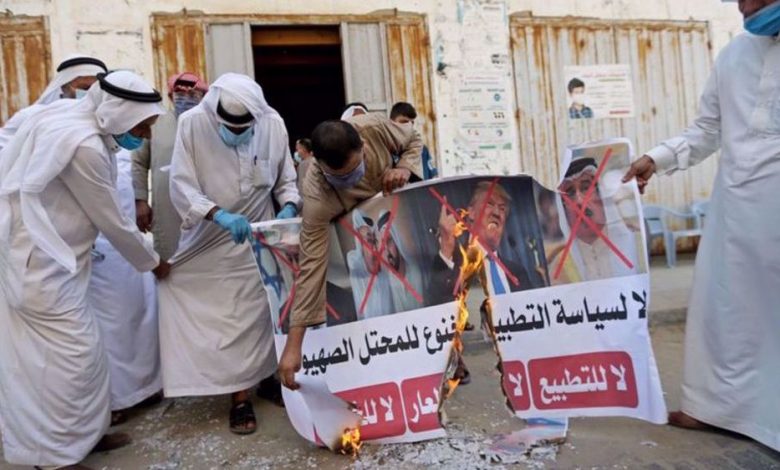 Palestinian factions and the broader international Muslim community have expressed outrage at a fledgling trend of Arab-Israeli normalization that has so far seen the United Arab Emirates (UAE) and Bahrain cozying up to the occupying regime under Washington's auspices.
Palestinians have declared the upcoming Tuesday a "day of rage" over an earlier decision by Bahrain to normalize its ties with Israel under a US-brokered agreement, according to Israel's Walla! website. A similar deal helped the UAE take the same move last month.
"The Palestinian flag will be raised in all Palestinian cities and refugee camps… to emphasize the objection to raising the Israeli flag in Abu Dhabi and Manama," a Palestinian statement read, according to the Israeli outlet, which did not specify the faction or factions releasing it.

The statement also called on Palestinians to hold protests in front of embassies of the US, Israel, the UAE, and Bahrain around the world.
The Central Committee of the Fatah movement — that leads the Palestinian Authority in the West Bank — also lamented that the string of Arab betrayal served to compromise the Islamic and even Christian connections to the occupied holy city of Jerusalem al-Quds in the Israeli-occupied territory.
The Arab states, the committee added, were, meanwhile, encouraging the Israeli regime to rev up its illegal land grab and settlement construction activities.
Amid Manama and Abu Dhabi's boast of their "peace" with Tel Aviv, the committee noted that any regional attempt towards peace and stability in the region has to primarily safeguard the rights of the Palestinians.
'Resistance, best way to confront Israel'
The Palestinian Islamic Resistance Movement, Hamas, also condemned the normalization campaign.
The group reflected on the trend in a statement that it released on the anniversary of the Oslo Accords, which were signed between the Israeli regime and the umbrella group of the Palestine Liberation Organization in the early 1990s.
In the same way that the Oslo agreements failed to take away the Palestinian refugees' right to return to their homeland, the current Arab-Israeli normalization drive will also fail to deprive them of this entitlement, Hamas said.
The normalization bandwagon, the resistance group said, is nothing but treachery against Palestine and Palestinians that would bring about nothing but ignominy for the Arab regimes.
The campaign can only be confronted through Palestinian unity, Hamas said, insisting on commitment to the results of a recent plenary Palestinian meeting in Beirut that was held to help close up existing rifts among Palestinian factions.
"Al-Quds will remain Palestine's eternal capital and no one can change it into the occupying Israeli regime's capital," Hamas said, identifying resistance as the best means of confronting Israel and liberating Palestine.