World News
Over 1,000 Ukrainian prisoners sent to Russia for investigation
More than 1,000 Ukrainian servicemen who surrendered in the besieged Azovstal steel plant in the southern port of Mariupol have been transferred to Russia for investigation, in a move that could undermine already troubled peace talks between the two sides.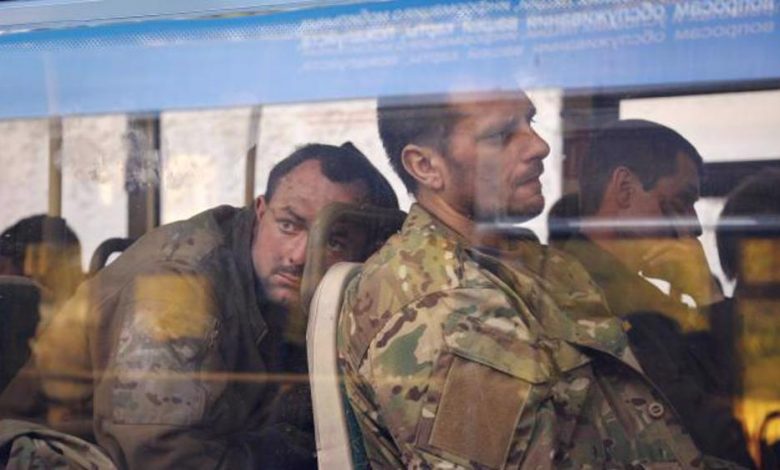 "More than 1000 people from Azovstal were brought to Russia. Law enforcement organs are working with them closely," Tass news agency reported on Tuesday, citing a Russian law enforcement source, without providing further information.
The source also said that later on, more Ukrainian prisoners would be sent to Russia.
Back in May, Moscow said it had managed to fully liberate Azovstal, a giant fortress-like steel plant in Mariupol.
It said more than 2,400 people who had been stuck in the complex for almost a month, including Ukrainian servicemen and "members of the neo-Nazi Azov unit", laid down their arms and surrendered.
At the time, Moscow released no information about where the surrendered soldiers were being evacuated to, but Ukrainian authorities hoped they could be released as part of a prisoner swap.
Russian lawmakers pushed plans to declare Azov regiment fighters "Nazi criminals" who must not be included in the prisoner swap with Ukraine.
The office of Russia's prosecutor general asked the country's apex court to declare the unit a "terrorist organization."
The Azov regiment, set up as a volunteer militia in 2014, has had close ties to the far right.
Russia returns bodies of 210 Ukrainian soldiers to Kiev
Meanwhile, Ukraine says Russia has so far handed over the bodies of 210 Ukrainian soldiers killed in the battle for Mariupol, most of whom were among the last holdouts in Azovstal.
"The process of returning the bodies of the fallen defenders of Mariupol is under way. To date, 210 of our troops have been returned – most of them are heroic defenders of Azovstal," Ukraine's defense intelligence directorate said in a post on Twitter on Tuesday.
"Work continues on bringing home all of the captured Ukrainian defenders," the directorate added.
The families of Ukraine's Azov unit of the national guard had earlier reported the return of some bodies.
Last week, Ukraine's Ministry of Reintegration of the Temporarily Occupied Territories announced an exchange of 160 bodies between Russia and Ukraine.
"It's important to note that a third of the bodies (handed over) were Azov fighters, the affiliation of the other fighters to different units is being clarified," the families said in a statement on Monday.
Russia launched the offensive in Ukraine in late February, following Kiev's failure to implement the terms of the Minsk agreements and Moscow's recognition of the breakaway regions of Donetsk and Luhansk.
At the time, Russian President Vladimir Putin said one of the goals of what he called a "special military operation" was to "de-Nazify" Ukraine.
Western countries have responded to Russia's operation by backing Ukraine with cash and increasingly heavy weaponry, while imposing unprecedented waves of sanction against Moscow.
Moscow has repeatedly warned that such a flow of weapons to Kiev will only prolong Russia's operations.
Officials from Kiev and Moscow have held several rounds of discussions since the beginning of the offensive. However, the talks have failed to produce a breakthrough, as both the warring sides have refused to compromise on their respective redlines.
Stalemate with Russia 'not an option': Ukrainian president
Separately on Tuesday, Ukrainian president Volodymyr Zelenskyy said a stalemate in the war with Russia is "not an option" for his country, while appealing once more for Western military support to restore Ukraine's territorial integrity.
"We are inferior in terms of equipment and therefore we are not capable of advancing," Zelensky said, adding that "We are going to suffer more losses and people are my priority."
Zelenskyy further noted that pushing Russian forces back to positions occupied before the February 24 invasion would amount to a "serious temporary victory" for Ukraine but full sovereignty over its territory remained his ultimate goal.
He also said "victory must be achieved on the battlefield," but stressed that he was open to peace talks despite "atrocities" committed by the Russian army during their 100-day onslaught.
Any war should be ended at the negotiating table, he said, stressing that peace negotiations would have to be face to face with Putin, because there was "nobody else to talk to" but the Russian leader.
Zelensky further called on his Western allies to supply Ukraine with arms and toughen sanctions on Russia in an attempt to bring Moscow to the negotiating table.
He said that while some Western sanctions had already dealt a severe blow to the Russian economy, they "have not really influenced the Russian position."
Ukrainian officials have repeatedly asked Western countries for rapid supply of longer-range heavy weaponry to push back Russian forces but have been dismayed by the slow pace of deliveries.
Russia has now focused its military operation on the eastern Donbas region to liberate the area from what it calls pro-Nazi forces.
Zelenskyy has said Ukraine could be losing up to 100 troops a day.