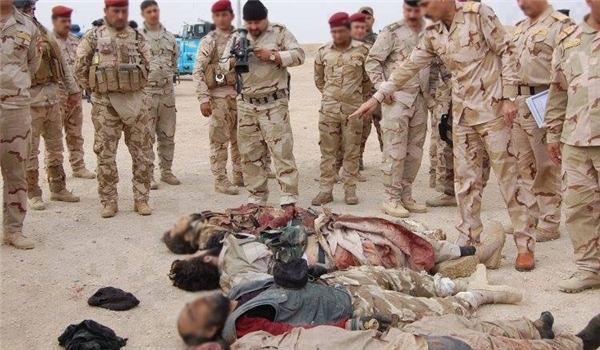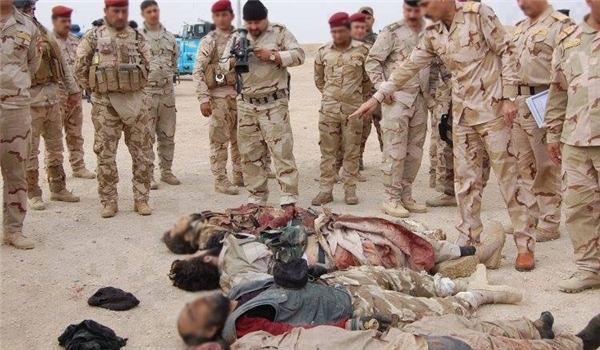 The Iraqi air force conducted several airstrikes against positions of the ISIL Takfiri terrorists in the province of Salahuddin, and killed at least 125 of them.
The Takfiri militants were killed after Iraqi warplanes carried out precision strikes against ISIL positions in the town of al-Shirqat, about 250 kilometers (155 miles) North of the capital, Baghdad, a security source, speaking on condition of anonymity, said on Friday.
The source further said that six arms depots belonging to the terrorists were completely destroyed in the air raids.
Commander of the Federal Police Forces Lieutenant General Raed Shaker Jawdat also said Iraqi police troopers have engaged ISIL militants in the city of Husaybah, which lies seven kilometers (4.5 miles) East of Anbar's provincial capital city of Ramadi, killing 29 terrorists in the operation.
He added that a large amount of munitions and equipment, including rocket launchers and heavy machine guns, were destroyed in the operation.
Meanwhile, Iraqi troops backed by fighters from allied Popular Mobilization units have regained control of al-Mal'ab region in the province of Anbar. Ten terrorists were killed and three booby-trapped houses destroyed during the operation.
The ISIL Takfiri terrorists currently control shrinking swathes of Syria and Iraq. They have threatened all communities, including Shiites, Sunnis, Kurds, Christians, Ezadi Kurds and others, as they continue their atrocities in Iraq.
Senior Iraqi officials have blamed Saudi Arabia, Qatar, and some Persian Gulf Arab states for the growing terrorism in their country.
The ISIL has links with Saudi intelligence and is believed to be indirectly supported by the Israeli regime.