Syria
Over 70 Terrorists Killed, Wounded in Syrian Army Attacks in Dara'a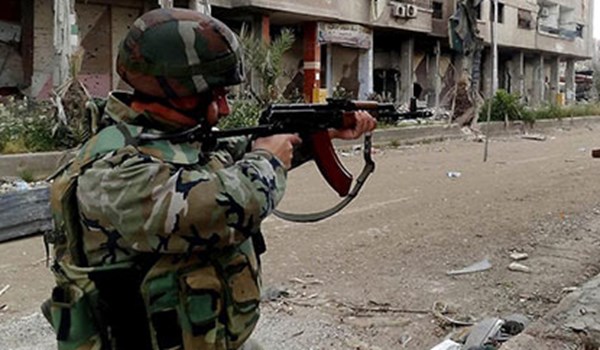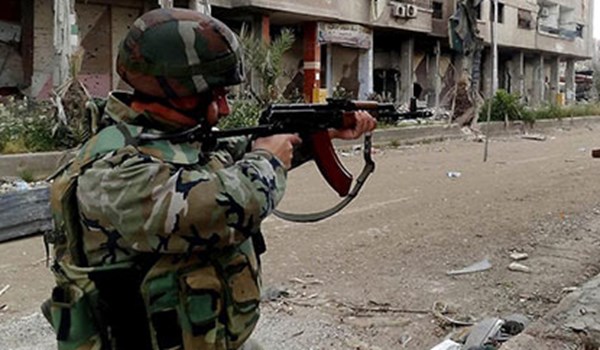 Syrian Army troops continued to target the positions and movements of Al-Nusra Front (recently renamed to Fatah al-Sham Front) and other terrorist groups in different parts of Dara'a city and province, killing at least 24 militants and wounding 50 others.
The army men targeted Al-Nusra Front's concentration centers in the neighborhood al-Nazeheen, a number of towns near Dara'a city, and village of Koum al-Raman, South of al-Qariyeh al-Qarbi, Southwest of al-Yadoudeh and the Shahab Hill, leaving over 24 terrorists dead and 50 others wounded.
The army attacks also destroyed six main centers and five machinegun-equipped vehicles of the terrorists.
Websites affiliated to the terrorist groups confirmed that Ahrar al-Sham's Commander Abu al-Abbas Kuya has been amongst the terrorists killed in al-Manshiyeh neighborhood in Dara'a city.
Other sources said that the terrorist front is on the verge of collapse after the heavy defeats and casualties they suffered in battle with the Syrian Army, adding that the terrorist groups' field hospitals are full of injured militants and cannot have any more admission.
Reports said earlier today that the Al-Nusra Front failed to prevail over the Syrian Army troops' positions in the Western districts of Dara'a city after sustaining a number of casualties, adding that the terrorist group has transferred its wounded members to Israeli hospitals for treatment.
Syrian Army troops fended off the Al-Nusra attack on their positions in al-Manshiyeh neighborhood, killing and wounding a number of terrorists.
The army men further targeted Al-Nusra Front's positions in the oil customs region, al-Sweidan street and near Balal Habashi grand mosque and Yarmouk school, destroying terrorists' bases and military vehicles.
Army reports said the Al-Nusra suffered heavy casualties in the second round of attacks.
Local sources disclosed that the al-Nusra has transferred a number of its injured members to Israeli hospitals to be treated there.
A military source rejected reports released by website affiliated to the terrorist groups about the Al-Nura's advances in al-Manshiyeh and underlined that the army could take back the entire lost lands Southeast of al-Manshiyeh after arrival of fresh soldiers and military equipment in Dara'a.
In the meantime, Syrian and Russian fighter jets targeted badly the terrorists' positions and communication lines in the battlefield.