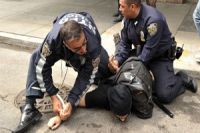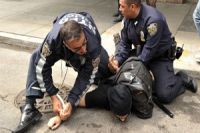 An American political analyst says the Occupy Wall Street protesters are not intimidated by police brutality and unjustified arrests.
Caleb Maupin, who works with the International Action Center, in a Thursday interview with Press TV, said: "The Occupy movement is not in any way being intimidated by this. Plans are being made for a huge gathering coming up in August for the march on Wall Street's south which is when the Democratic National Convention will be meeting in Charlotte." According to a recent report, the officers of New York Police Department have violated the rights of Occupy Wall Street protesters by using excessive force and unjustified arrests during different demonstrations.
The Global Justice Clinic at New York University's School of Law and the Walter Leitner International Human Rights Clinic at Fordham Law School reported some 130 incidents of alleged abuse on Wednesday. Maupin noted: "I believe the report listed 130 violations; that seems like a very, very, very low estimate. The amount of police brutality that went on frequently against the Occupy protesters was far higher in my experience. It seemed, very frequently, people were being grabbed, thrown to the ground, you know, hit in the face for nothing."
He further argued that police brutality towards the Occupy Wall Street is a very frequent occurrence as the movement is "standing up, because they are in the streets demanding justice.
The American analyst added that the OWS protestors are going to take the cases of police brutality to the court.