Palestine
PA security forces assault women protesting outside jail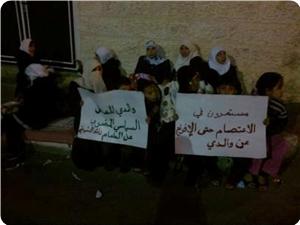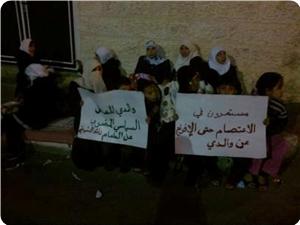 Palestinian authority security elements wearing civilian clothes physically assaulted the family of political detainee Ra'ed Sharbati and human rights activist Lama Khater as they were taking part in a sit-in outside the jail of the preventive security agency in Al-Khalil city.
The wife of prisoner Sharbati said policewomen attacked mothers and their children very violently.
She said the police forces were hysterically attacking everyone in the sit-in amid curses and slurs, especially female activist Lama Khater who was humiliated and assaulted very badly.
For her part, Khater told the Palestinian information center (PIC) that a group of security elements in civilian attire along with policewomen dispersed the sit-in by force.
She added that the security personnel insulted the divine providence, cursed the female protestors and took the sheet they were sitting on during the sit-in.
The activist affirmed the daughter of political detainee Ra'ed Sharbati was taken to Aliya hospital after she was beaten on her belly and consequently suffered a nervous breakdown.
The family of Sharbati decided to stage a sit-in outside the preventive security prison in Al-Khalil after PA officers backtracked on their pledge to release him.
In this regard, the violence used by the PA security forces against these women raised the ire of many facebook activists.
The activists called on all individuals and rights groups which claim to be neutral and just to condemn this cowardly incident and violation of human rights.
Spokesman for the Palestinian government in Gaza Taher Al-Nuni, noted Palestinian lawmakers including Samira Halaiqa, the brother of political detainee Ra'ed Sharbati and many Palestinian facebook groups were among those who slammed the attack on the women as they were peacefully demanding the release of their relative.