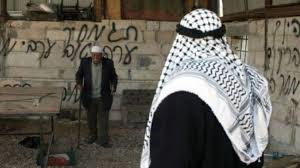 The Palestinian Authority has urged the international community to designate Israeli settler groups that attack Palestinians as terrorist organizations.
Palestinian Authority Foreign Minister Riad al-Malki said on Monday that he had made a written request to Russia, the United States, Canada, the European Union, the United Nations, the Arab League, and some other international organizations to classify Israeli settler groups as terrorist organizations.
In the letter, Malki said that he had provided details about the Israeli vandalism of Palestinian properties and holy sites.
He said in the letters that settlers known as the "Hilltop Youth" and "price tag" perpetrators "practice terror … constantly against the Palestinian people, their land, holy places and property."
"These groups play a role in killing, incitement to violence and spreading the culture of hatred and racism," he said in the letter.
Price tag attacks are acts of vandalism and violence against Palestinians and their property as well as Islamic holy sites.
On May 4, Israeli vandals attacked a car in the northern city of Acre in the latest such incident against Palestinian properties.
The United Nations has recorded "399 attacks" of this kind by Israeli settlers, which have "resulted in Palestinian injuries or property damage."