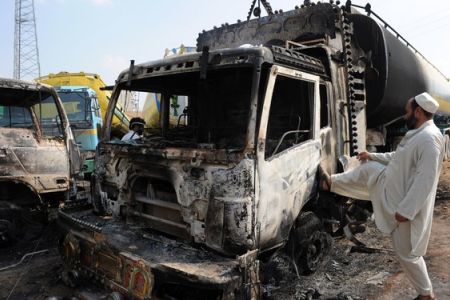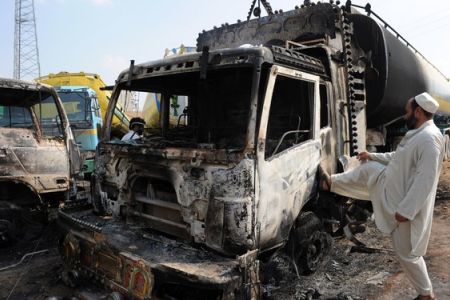 Pakistani militants have launched fresh attacks on tankers and trucks carrying fuel and goods to US-led troops stationed in war-torn Afghanistan.
A small bomb on Tuesday damaged a parked truck in Khyber tribal region in northwestern Pakistan, said Wajid Khan, a local administrator.
The attack didn't result in any casualties, but the tanker was destroyed, the Associated Press reported.
In another incident, militants set ablaze two more trucks when they were passing through south western Balochistan province.
Unknown militants riding a motorcycle opened fire on trucks loaded with NATO supplies in Kalat district of Balochistan, killing a truck driver and injuring two others, a Press TV correspondent reported on Monday.
Gunmen torched the containers and managed to escape from the scene.
No group or individual has so far claimed responsibility for the attack.
NATO supply convoys have come under attack several times in the past few days.
Militants torched at least 20 fuel tankers on Monday. Islamabad has closed NATO's main supply route into Afghanistan causing hundreds of trucks to line up at the border.
The decision was made after three Pakistani soldiers were killed in a non-UN-sanctioned strike by NATO helicopters on a military outpost.