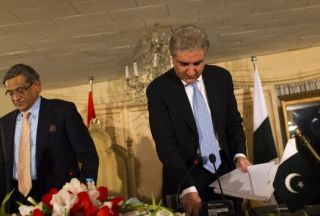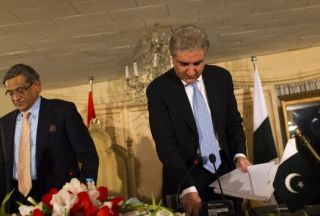 Islamabad says New Delhi officials are not prepared for peace talks as a meeting between the Pakistani and Indian foreign ministers ends without any achievement.
Pakistani Foreign Minister Shah Mehmood Qureshi said on Friday that the visiting Indian delegation blocked the peace process by refusing to discuss issues of interest for Islamabad.
He described the dispute over Kashmir as one of the thorniest matters that separates the two nations.
Qureshi also accused the Indian delegation of interrupting the meeting to take phone calls from New Delhi.
He made the comments in Islamabad, one day after meeting with his Indian counterpart S.M Krishna.
The talks between Qureishi and Krishna were the third high-level contact between India and Pakistan in recent months.
The meeting was the culmination of a series of meetings since February aimed at restoring relations between the two nuclear-armed neighbors.
Tension between the two sides increased after the Mumbai terrorist attacks, which left more than 160 people dead.
India blamed the 2008 Mumbai attack on a Pakistan-based militant group. New Delhi has often blamed Pakistan's Inter-Services Intelligence for aiding terrorist groups in India. Islamabad has denied the charges.
The neighboring rivals have a history of mistrust and have fought three wars since their independence from Britain in 1947.