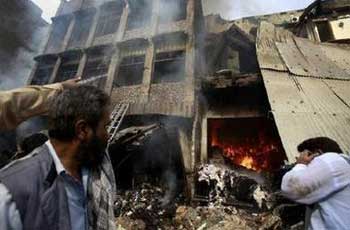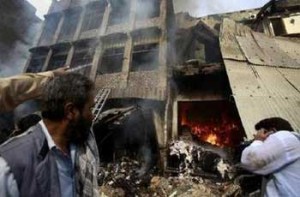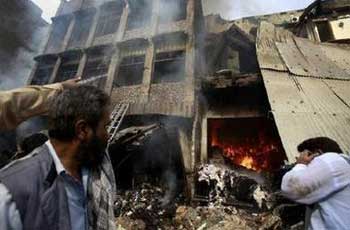 A huge car bomb ripped through a crowded market in Pakistan on Wednesday killing 92 people.
The explosion brought down buildings in the northwestern city of Peshawar just hours after US Secretary Hillary Clinton arrived in Pakistan.
Doctors at the Lady Reading Hospital said most of the dead were women and children, as a routine day out in the city's main bazaar ended in horror.
"We have 92 dead bodies and 217 injured people. Nineteen of the dead are women and 11 are children. All the dead are civilians," Doctor Zafar Iqbal told AFP as staff declared an emergency and called for blood donations.
Flames reached out of burning wreckage and smoke billowed over the collapsed rubble of a mosque and three buildings as rescue workers fished charred bodies out of the wreckage.