Pakistan
Pakistan censures US killer drone attack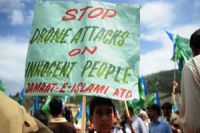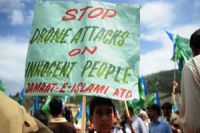 Pakistan has "strongly" condemned an airstrike carried out by a US assassination drone, which killed at least seven people in the country's northwestern tribal area.
Pakistan's Foreign Ministry said in a statement on Sunday, "These unilateral strikes are a violation of Pakistan's sovereignty and territorial integrity".
The deadly attack occurred earlier on Sunday, when a US drone fired four missiles at two houses in Shawal area, about 55 kilometers (35 miles) west of Miranshah Town.
The statement further said that Islamabad has repeatedly emphasized "the importance of bringing an immediate end to drone strikes."
Reports say the latest drone strike is the 19th of its kind in Pakistan in 2013. More than 100 people have lost their lives in such strikes in the country so far this year.
The Pakistani government has repeatedly protested against the US drone strikes, saying they violate the Asian country's sovereignty.
Pakistani Prime Minister Nawaz Sharif recently blasted the deadly assaults in his country, describing them as a violation of the international law and the United Nations Charter.