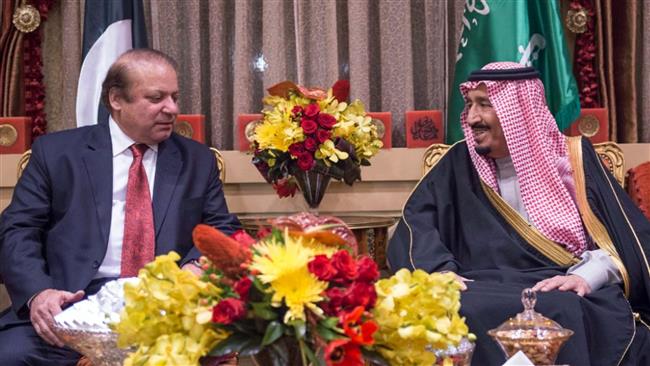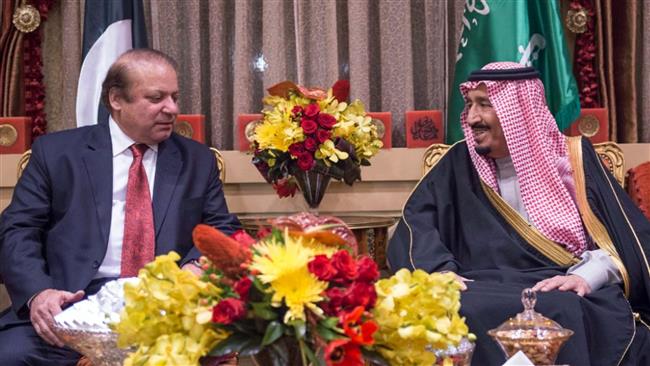 Pakistani Prime Minister Nawaz Sharif has expressed "deep concern" over the recent Iran-Saudi row during his visit to Riyadh.
Sharif, who arrived in the Saudi capital on Monday, held talks with Saudi King Salman bin Abdulaziz to discuss bilateral cooperation between the two countries as well as regional and international developments.
Pakistan's Foreign Ministry Spokesman Qazi M. Khalilullah said in a statement that Sharif "expressed our deep concern on the recent escalation of tensions" between Riyadh and Tehran during the meeting with King Salman.
"He also called for an early resolution of differences through peaceful means, in the larger interest of Ummah (the Islamic nation), particularly during these challenging times," the statement read.
Ahead of Sharif's trip to Riyadh, a Pakistani government official told AFP on condition of anonymity that "the purpose of the visit is to mediate and to end the standoff between the two countries."
The premier is accompanied by Pakistani Army Chief General Raheel Sharif and Minister of State for Foreign Affairs Tareq Fatem during his two-leg trip, which will also take the delegation to the Iranian capital, Tehran, on Tuesday.
Relations between Iran and Saudi Arabia have recently been strained following the Saudi execution of top opposition cleric Sheikh Nimr al-Nimr, which was announced on January 2.
Nimr's execution was widely censured by Muslims and human rights activists around the globe as well as different governments.
Saudi Arabia severed diplomatic relations with Iran on January 3 following demonstrations outside the Saudi embassy in Tehran and its consulate in the northeastern city of Mashhad by angry protesters.
Besides Pakistan, other countries, including Russia and China, have voiced readiness to mediate between Iran and Saudi Arabia.