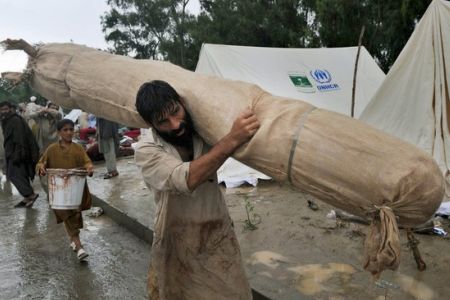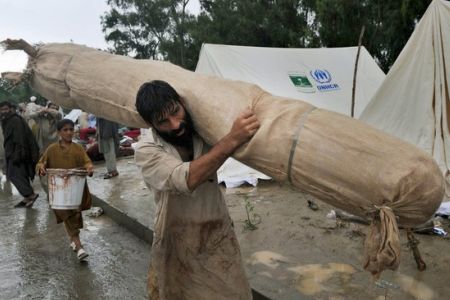 The worst flooding in the history of Pakistan has so far left 1,600 people dead, affecting the lives of 16 million others.
Pakistan's Federal Flood Commission warned Saturday that the Indus River was bursting its banks in southern Pakistan, CNN reported.
The floodwaters flowing from the northwest of Pakistan have already destroyed hundreds of villages.
Manuel Bessler, the head of UN Office for the Coordination of Humanitarian Affairs (OCHA) in Pakistan said more than half-a-million people have been evacuated in low-lying areas near the Indus River in Sindh.
Sindh is on high alert as more heavy rains are expected to lash the country. Pakistan's meteorological office has warned that at least two more days of rain are expected in the region.
Prime Minister Gilani has appealed to the international community for help.
"I would ask the international community to support and help Pakistan alleviate the sufferings of its flood-affected people," Gilani said in a televised address on Friday.
Meanwhile, President Asif Ali Zardari has rejected criticism that he should return from an extended trip abroad.
"I'm the one who's given all the powers from the presidency to the parliament. The parliament is in session — the Senate is in session. It's the prime minister's responsibility, and he's fulfilling his responsibility," the BBC quoted Zardari as saying.