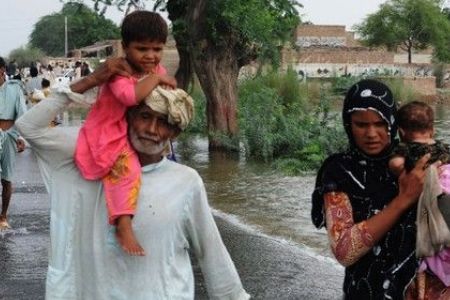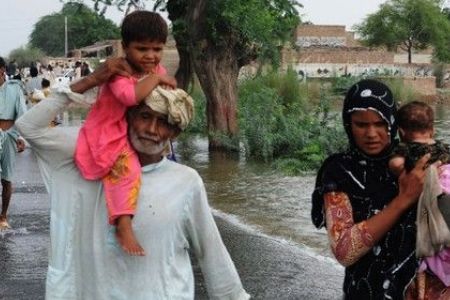 The United Nations has warned that water-borne diseases in Pakistan's flood-stricken regions are seriously threatening the lives of three-and-a-half million children.
A spokesman for the UN Office for the Coordination of Humanitarian Affairs (OCHA) said on Monday that millions of Pakistani children are at risk of disease.
"Up to 3.5 million children are at high risk of deadly water-borne diseases including diarrhoea-related, such as watery diarrhoea and dysentery," Spokesman Maurizio Giuliano said.
"What concerns us the most is water and health. Clean water is essential to prevent deadly water-borne diseases. Water during the flood has been contaminated badly. There is a shortage of clean water," he added.
The world body says at least six million children are at risk of catching diseases such as diarrhea, typhoid and hepatitis.
UN Chief Ban Ki-moon left the South Asian country after announcing that the floods were the worst disaster he had seen.
On Sunday, UN Secretary General Ban Ki-Moon urged the international community to speed up humanitarian aid to millions of victims. The UN says only one-fifth of the aid needed for initial relief operations has arrived in Pakistan.
The World Health Organization (WHO) says Pakistan is on the brink of a second wave of deaths if disease outbreaks are not prevented.
WHO was also preparing to assist tens of thousands of people in case of cholera. It says the mortality from these diseases is increasing but no official figures are yet available.
This comes as the country braces for more floods. Fresh flooding in southern Pakistan has forced tens of thousands of people to flee their homes.
The region is still reeling from the most devastating floods in the country's history, leaving 1,600 people dead so far.