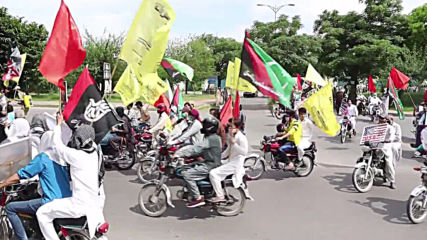 Protesters across Pakistan rallied on Friday to show support for Palestine on International Quds Day.
In Islamabad protesters marched to the D-Chowk square near the country's parliament, chanting anti-US slogans and burning Israeli flags.
"The enemy must know the Muslim community is never scared of America or Israel. We always come out to support the oppressed people," said one of the protesters, Syed Arslan Shah.
The late founder of the Islamic Republic, Imam Khomeini, designated the last Friday of the holy fasting month of Ramadan as Quds Day to mark solidarity with the Palestinian cause.
The event, which is marked worldwide, is viewed as an opportunity for all freedom-seeking nations of the world to express their outrage at the Israeli regime for its decades-long occupation of Palestinian territories.