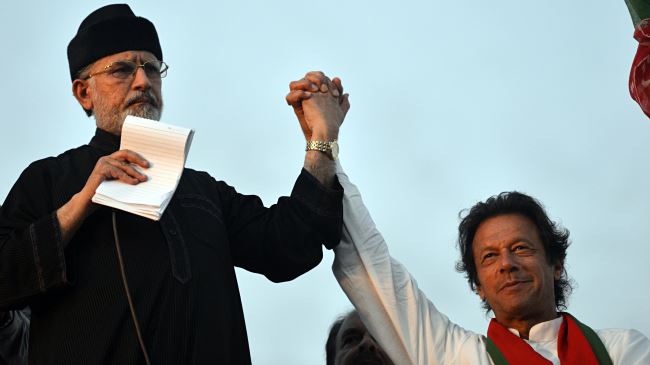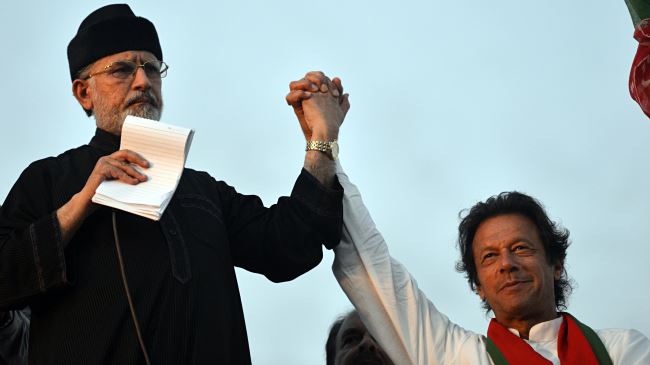 A court in Pakistan has issued arrest warrants for two prominent opposition leaders over recent anti-government protests in the country.
Pakistani officials said Judge Syed Kausar Abbas Zaidi issued the orders for cricketer-turned-politician Imran Khan and Cleric Muhammad Tahir ul-Qadri, as well as 26 others, on Wednesday.
Soon after the court's order, Khan said he welcomes the move "as good news because it means that Mian Sahib (Nawaz Sharif) has become afraid of my protest rally on November 30."
"He is scared. So, he is trying to frighten me by sending an arrest warrant. Mian Sahib! Maybe these kinds of things can scare you, but I take it as a good news because it will further awaken my nation," Khan told a group of protesters in the capital, Islamabad.
Shireen Mazari, the spokeswoman for Khan's Pakistan Tehreek-e-Insaaf (PTI) party, has rejected the move, saying the anti-government protests will continue. "The government has totally lost it and they are merely hastening their own downfall. Arrest warrants will not stop Imran Khan and Pakistan Tehreek-e-Insaf," she said.
The opposition groups accuse Sharif of corruption and rigging last year's parliamentary elections, which brought him to power.
Pakistan has been the scene of anti-government protests since August 14.
Talks between representatives from Sharif's Pakistan Muslim League-Nawaz (PML-N) and the opposition groups have stalled, as both sides refuse to back down from their stances.
The ruling party says Sharif will not resign, while the opposition refuses to accept any solution short of his resignation.