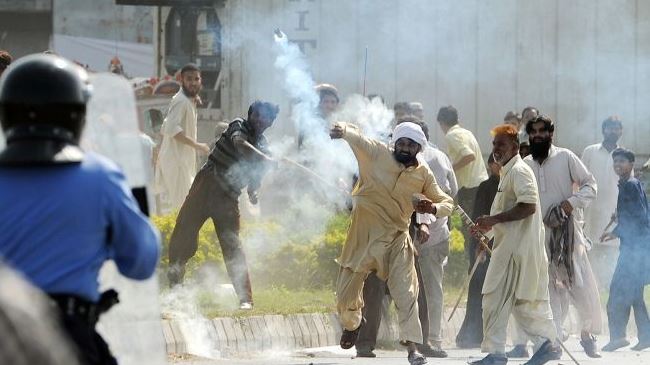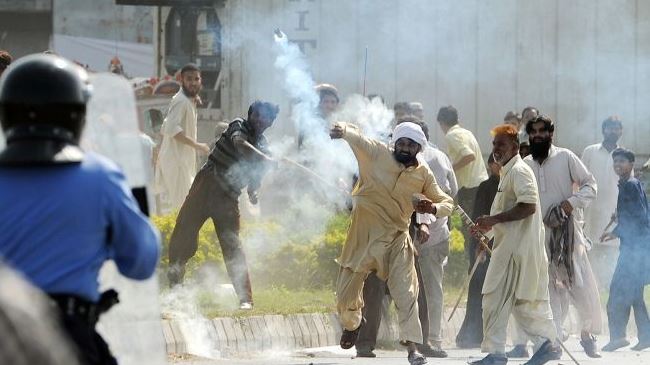 Pakistan's interior minister castigates violent anti-government protests as a rebellion against the state as lawmakers back the embattled government.
Speaking at an emergency joint session of Pakistan's National Assembly and the Senate on Tuesday, Interior Minister Chaudhry Nisar Ali Khan asked lawmakers to give police "clear guidance" to confront violent anti-government protesters in Islamabad as "intruders and terrorists."
"This is not a protest, a sit-in or a political gathering. This is a revolt against Pakistan; this is a revolt against the state institutions," the minister said.
During the joint session of the Pakistani legislature, the lawmakers rallied behind the country's embattled prime minister.
Despite boycotting of the session by MPs from Imran Khan's opposition Pakistan Tehrik-e Insaaf (PTI) party, other opposition parties refused the call for Prime Minister Nawaz Sharif to resign, saying that it would be unconstitutional for the head of government to be forced to resign by street demonstrations.
Meanwhile, Defense Minister Khawaja Muhammad Asif said the government was considering taking action against demonstrators that included "selective use of force" and arrests.
The ad hoc parliamentary session came in the wake of three days of clashes between police and club-wielding demonstrators urging Sharif to step down.
Pakistan has faced political turmoil since mid-August, when tens of thousands of protesters led by Irman Khan and cleric Tahir ul-Qadri, the leader of Pakistan Awami Tehreek (PAT) party, marched from Lahore to Islamabad.
Earlier on Monday, hundreds of protesters stormed the headquarters of Pakistan's state-run television channel, PTV.
Three protesters were also killed when they attempted to capture the prime minister's residence on August 30.
The protesters accuse Sharif's government of corruption and urge a probe into the election in May 2013 which saw him take power.