Pakistan
Pakistan mourns Shia mosque blast victims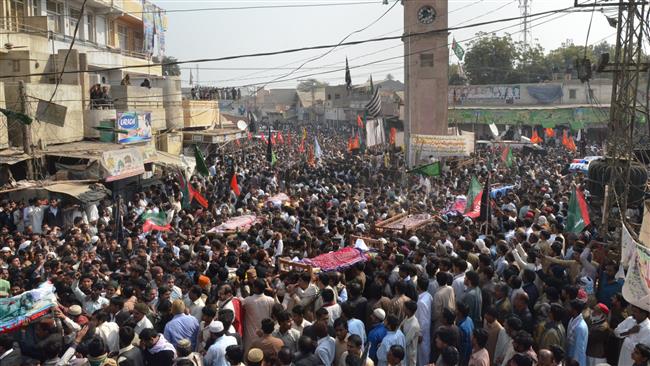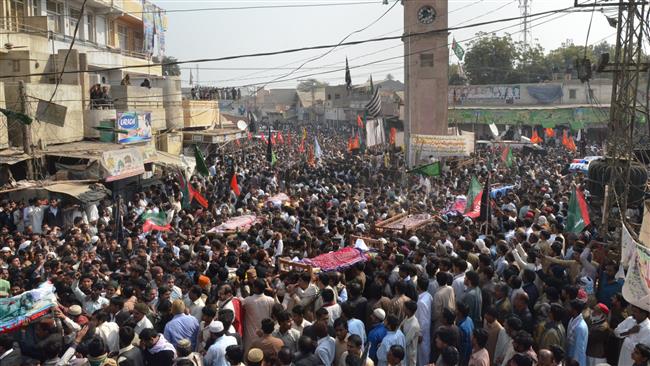 Muslims in Pakistan have started a three-day mourning period and staged sit-ins and strikes to commemorate the victims of a deadly bomb attack on a mosque in the southern province of Sindh.
At least 60 people were killed and dozens injured in the bomb attack on a Shia mosque and religious center when people were performing Friday prayers in the town of Shikarpur, around 470 kilometers (300 miles) north of the port city of Karachi.
Most of the victims were being buried on Saturday in Sindh, where the provincial government has declared a high security alert.
People shut down their shops in parts of the province as Shia Muslims called for three days of peaceful protests.
Shia Muslims in Pakistan say the government must prevent the killing of their community members.
Hours after the mosque bombing, large crowds of Pakistani people, including members of civil society and peace activists, poured onto the streets of Pakistan's largest city of Karachi to voice their outrage over the massacre.
Similar rallies were held in other Pakistani cities, including the capital, Islamabad, Lahore, and Quetta.
The angry demonstrators chanted anti-government slogans and demanded the arrest of those behind the incident. The protesters also demanded that the Pakistani government take decisive action against the forces involved in the targeted killings, saying that Islamabad cannot provide security for the Shia Muslim community.
The demonstrators also accused some Arab monarchies across the Persian Gulf of supporting and funding militant groups operating in Pakistan.
No group has yet claimed responsibility for the attack, but pro-Taliban militants usually take responsibility for similar attacks in the violence-wracked country.