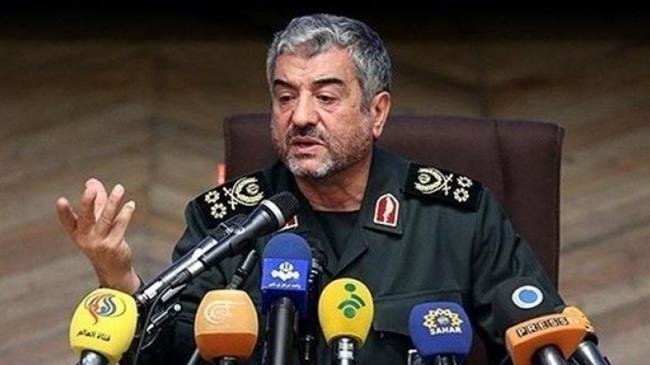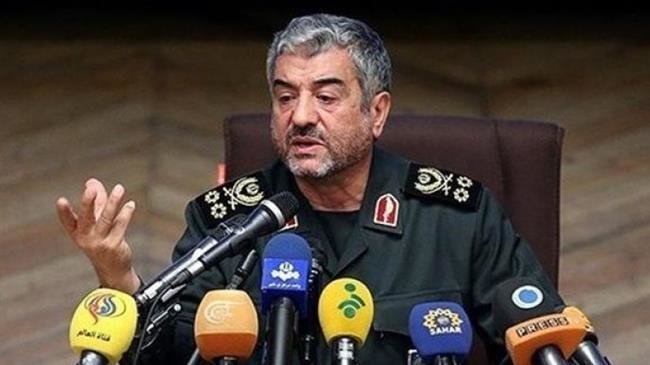 The Islamic Revolution Guards Corps has urged Pakistan to beef up security measures along its border with Iran following a deadly terrorist attack on a group of IRGC forces in southeastern Iran.
Major General Mohammad Ali Jafari, the IRGC's chief commander, said in a statement on Thursday that "the brotherly government of Pakistan and the country's security bodies and army are expected to step up security measures and tactics on the common border."
Islamabad should engage in such actions to tighten the grip on "Takfiri mercenary terrorists, who are the enemies of both nations, and decisively confront them to rob them of any chances to take any action, which could compromise security or pose danger," he added.
The IRGC personnel were traveling between the cities of Zahedan and Khash, in Sistan and Baluchestan Province on Wednesday, when their bus was targeted in a car bomb attack.
Terrorists have targeted an IRGC bus in a suicide bombing attack.
The IRGC's Qods Headquarters said in a statement that an explosives-laden car had rammed into the bus, which was taking the personnel back to their homes.
The attack killed 27 IRGC members and wounded 13 others with the so-called Jaish ul-Adl terrorist group claiming responsibility for the bombing.
Elsewhere in his statement, the IRGC commander said the incident followed "the Iranian people's heavy slap [on the face of] the leaders of the global hegemony, Zionism, and US-sponsored terrorism."
The IRGC would, more steadfastly and decisively than ever, protect the country and its borders' security, while taking revenge on the "malicious" enemies, who are associated with the global arrogance, Jafari concluded.
Terrorists have used Pakistan's soil to target Iranian servicemen on many occasions in the past.
The attacks have resulted in the deaths and kidnapping of dozens of the forces.
Iran intelligence chief warns of 'stern revenge'
In a related development, Iran's Intelligence Minister Mahmoud Alavi likewise said the country's intelligence apparatus will exact a stern and crushing revenge on the plotters, perpetrators, and supporters of the heinous crime.
Commenting on the coincidence between the attack and a US-sponsored two-day conference in the Polish capital city of Warsaw, Alavi said the concurrence points to the existence of a premeditated plot aimed at covering up the global hegemony's helplessness.
The so-called Middle East security conference began on Wednesday.
Many European countries have sent low-level representatives to the event to signal their opposition to the US's anti-Iran stance. Russia, Turkey, Qatar, Lebanon, and the Palestinian authority totally shunned the event.