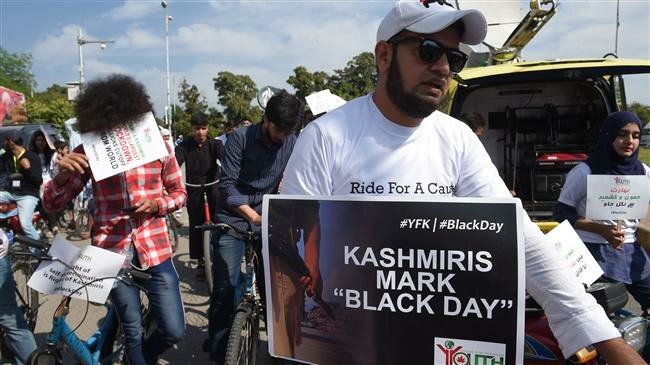 Pakistanis observed black day on Sunday to show solidarity with people in Indian-administered Kashmir.
Pakistan observes black day on October 27 every year, a day when India, according to Islamabad, ignored the British partition plan and occupied the disputed territory in 1947.
Islamabad has long argued that Kashmir should have acceded to Pakistan because of its Muslim majority population. On August 5, India tried to further tighten its grip on the region by revoking the special status of the disputed territory.
These protesters have strongly condemned the Indian move. They wanted to go to the Indian embassy, which is only few hundred meters from here, to register their protest. But they were stopped by authorities.
Chanting slogans in favor of Kashmir freedom, these protesters have vowed to resist what they see as India's illegal efforts to annex Jammu and Kashmir.
Since August 5, Indian administered Kashmir has remained under lock down. Several reports suggest that Indian authorities have detained thousands of Kashmiris including political leaders. Pakistan has condemned those actions and insisted that the Kashmir issue has to be resolved through the UN Security Council resolutions.
Kashmir remains a disputed territory since 1947 between Pakistan and India. Both claim the territory in full but rule only parts of it. They have fought wars over Kashmir in the past and tensions are once again increasing between the two neighbors.