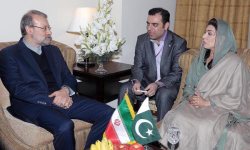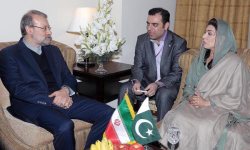 Pakistan parliamentary speaker, Dr. Fehmida Mirza on Tuesday thanked Iranian Majlis speaker, Dr. Ali Larijani for his unflinching support for making her initiative for the ECO parliamentary speakers conference a reality.
She made the remarks in meeting with Dr. Ali Larijani along with his delegation in Islamabad on the sidelines of 1st PAECO countries
She called for close cooperation among the ECO countries Conference of Parliamentary Assembly of Economic Cooperation Organization(PAECO) to turn it into an effective forum for finding solution to the issues confronting its members, an official statement said.
She said that the Economic Cooperation Organization(ECO) region was a huge repository of human resource and economic potential which if properly exploited could usher in era of progress and prosperity in the region.
Fehmida also underlined the need to work together to overcome the issues and work jointly for the welfare of the people of ECO region.
She said that all member states should sign the Banking agreement so that the Bank could commence its operations.
Fehmida Mirza expressed her gratitude to them for their active participation in the conference and expressed the hope that the forum would provide an opportunity for interaction and dialogue on matters of mutual interests.
Reciprocating, the Iranian Speaker agreed with views of Speaker National Assembly and lauded her efforts for taking concrete steps in bringing the regional allies closer to each other.
She also met with the Turkish parliamentary speaker and said that all the trade and other agreements of cooperation between ECO Member States should be accomplished specially the establishment of Trade and Investment Bank in Turkey.
They said that the forum will provide an opportunity to share experiences on regional and international issues.
They agreed that the PAECO forum should play its active role in bringing prosperity in the ECO region.