Pakistan
Pakistan PMs Iran visit to further boost bilateral ties: Adviser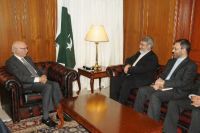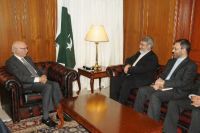 Adviser to Pakistan's Prime Minister on National Security and Foreign Affairs Sartaj Aziz on Tuesday said that relations with Tehran will further strengthen after Prime Minister Nawaz Sharif's visit to Iran.
Talking to IRNA after holding a meeting with Iran's Interior Minister Abdolreza Rahmani Fazli in Islamabad, he said that Iran and Pakistan have an excellent relationship.
He said that Pakistan wants to keep Iran-Pakistan gas pipeline project alive and we will be discussing the matter during the PM's visit because it is an important project for us.
"We will discuss ways to implement the project," he said.
He went on to say that the visit of the Iranian Interior Minister was an extremely useful one as he had fruitful meetings with the Prime Minister, with the Interior Minister, with the Army Chief and with me.
He added that the main subjects in the meetings was the strengthening of the mechanism between the two countries on border management, the expansion of crossing points from one to three, and the establishment of more border markets as well as the inclusion of a mechanism for consultation and coordination so that God forbid if any incident occurs on the border then it can be addressed immediately.
"So the mechanisms we are developing include better coordination among the security agencies, among army officers and the local commanders," said the Pakistani adviser.
We will hopefully finalize these during the Prime Minister's visit and this will be very important to ensure that the security committee between the two countries meets every three months and deal with the outstanding issues, he added.
Sartaj Aziz, too, said that Iran and Pakistan should work together for the restoration of peace and stability in Afghanistan.
He said that terrorism is something that Pakistan is trying to tackle because we won't allow any country to use our territory against any other country, including Iran. "
I hope with common strategy we will be able to control this menace which will also be good for Iran," he added.