Pakistan
Pakistan prepares to hold key vote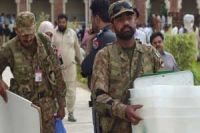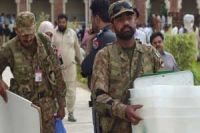 Pakistanis are preparing to go to the polls on Saturday to vote in a landmark parliamentary election amid political tensions and deadly violence in the country.
Key parties contesting the National Assembly vote include Pakistan People's Party (PPP), led by President Asif Ali Zardari, the Pakistan Muslim League-Nawaz (PML-N), led by former premier Nawaz Sharif, and Pakistan Tehreek-e-Insaf (PTI), led by bed-ridden former cricketer Imran Khan.
This is the first time in Pakistan's turbulent history that an elected civilian government has served a full five-year term.
The historic elections come against the backdrop of political tensions and deadly violence in the militancy-hit country.
Pro-Taliban militants have warned people against taking part in the elections, asking them to stay away from polling stations.
More than 130 people have been killed in attacks on party workers and candidates since the beginning of April.
Pakistan's National Assembly has a total of 342 members, of which 272 are elected by the popular vote. The last National Assembly elections were held in February 2008.
Pakistan will also hold elections for 577 seats of the provincial assemblies on Saturday.