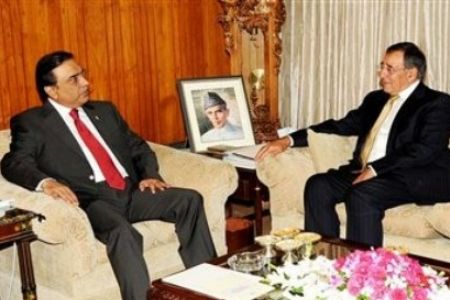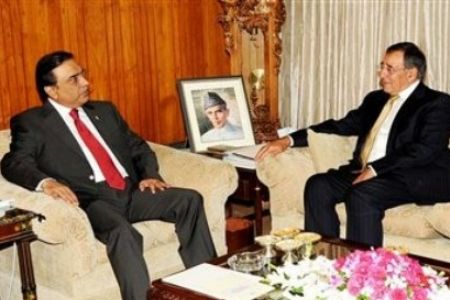 Pakistan has strongly condemned the increasing number of non-UN-sanctioned attacks by US drones and violation of its airspace by US-led forces stationed in Afghanistan.
In a Thursday meeting with CIA Director Leon Panetta in Pakistan, Pakistani President Asif Ali Zardari censured violation of his country's sovereignty.
Referring to airstrikes by US-led forces, the president said that "violation of internationally agreed principles is counterproductive and unacceptable," a Press TV correspondent reported on Friday.
The visiting CIA chief, for his part, promised to examine reports that NATO helicopters conducted deadly cross-border raids from Afghanistan.
Prime Minister Syed Yusuf Raza Gilani, who also held a separate meeting with Panetta on Thursday, expressed profound concern over the increasing drone attacks by NATO's International Security Assistance Force.
"Pakistan being a front-line ally in the war against terror expects from its partners to respect its territorial sovereignty," he added.
Meanwhile, during a parliament session in Islamabad on Thursday Pakistani lawmakers demanded the government to give a befitting response to the attacks.
They said that if the US strikes were not stopped, then Pakistan should prevent supplies that pass through Pakistan to reach NATO and US-led forces in Afghanistan.
"It is a sheer violation of international norms and direct attack on our sovereignty. We have full right to defend ourselves," Senator Khurshid Ahmed of Jamaat-i-Islami party told the House.
Senator Tariq Azim also questioned the government for tolerating the attacks asking government to shoot down NATO helicopters violating Pakistan's aerial space.
"Is the blood of our soldiers so cheap that we cannot even shoot down two helicopters," he argued.
Recent increase in US drone attacks in tribal regions near Pakistan and Afghanistan border has provoked anger among the people.