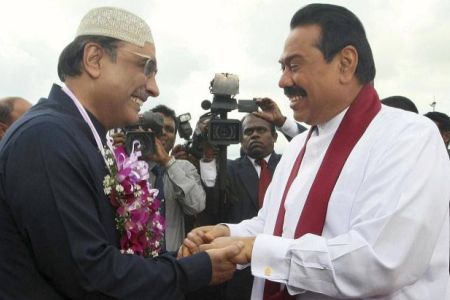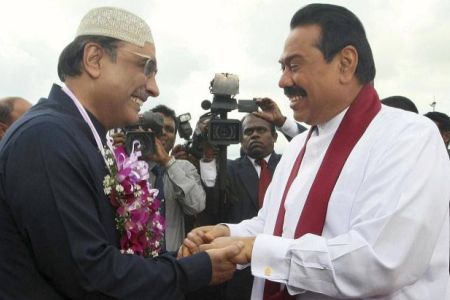 Pakistani President Asif Ali Zardari and Sri Lankan President Mahinda Rajapaksa agree to expand ties beyond political, defense paradigm to 'overall comprehensive engagement'.
Zardari, on Sunday, the second day of his 4-day visit to the Sri Lankan capital, Colombo, held extensive talks on bilateral cooperation in fields such as defense, agriculture, health and education.
They also agreed to promote trade, joint investments and fight terrorism.
Pakistan provided weapons, ammunition and training to Sri Lankan troops during Colombo's 25-year bloody war against the Tamil Tiger rebels. Rajapaksa's government defeated the separatist rebels in May 2009.
Calling it a "win-win situation for both", Zardari suggested that the finance ministers of the two countries immediately sit together to work out the details for further expansion of ties.
Zardari also offered to open a branch of the National Bank of Pakistan in Colombo on reciprocal basis. He also stressed on the need to reactivate the Joint Economic Commission to facilitate bilateral economic cooperation and monitor its progress.
Sri Lankan Foreign Minister Gamini Peiris and his Pakistani counterpart, Mahmood Qureshi, later signed bilateral agreements on agriculture and cultural cooperation.
Briefing journalists, the Pakistani president's spokesman, Farhatullah Babar, said the high watermark of the meetings was a decision to reinvigorate the Joint Economic Commission and task it to work out modalities for a new and unconventional phase of economic cooperation marked by barter trade, currency exchange and banking interchanges.