Asia-Pacific
Awakening
Europe
Pakistan
Pakistani lawyers protest French Islamophobia, urge closure of its embassy
Pakistani lawyers have staged a major protest rally against the anti-Islam rhetoric and positions of French President Emmanuel Macron in streets of the nation's capital Islamabad, demanding the closure of France's embassy in the Muslim country.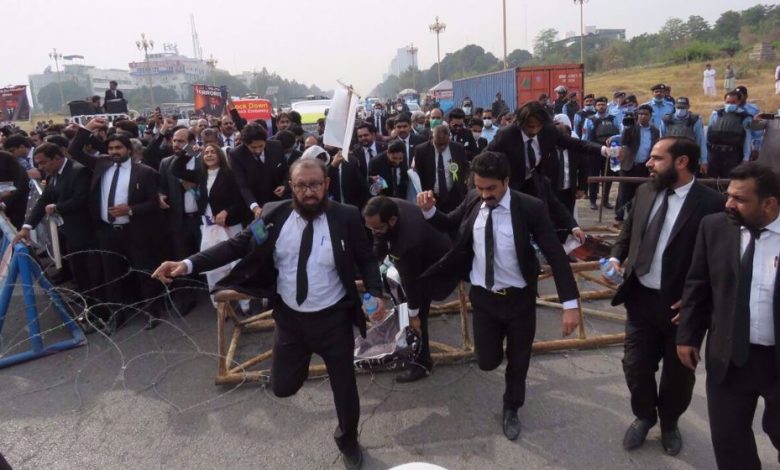 During the demonstration on Thursday, hundreds of participants expressed their anger against the French president and his recent Islamophobic remarks by chanting slogans and carrying placards slamming the move.
The angry protesters from different bar associations converged on the Pakistani Foreign Ministry building near the French Embassy and further demanded the closure of the country's diplomatic posts across Pakistan.
The protest march was carried out under tight security measures due to concerns that angry participants may either attempt to gain entry into the embassy or stage a sit-in in front of the building.
During the event, the heads of the bar associations addressed protesters and demanded serious efforts by the Pakistani government against the wave of Islamophobia across Europe, specifically insisting on shutting the French Embassy and expelling its ambassador.
At the conclusion of the anti-Paris rally, leaders of the Pakistani lawyers issued a resolution and and handed it over to the Special Assistant to the Prime Minister of Pakistan who was in attendance.
Pakistani lawyers further called on international institutions to monitor the abuse of the freedom of expression law in Western societies, underlining the strong and united stance of the Muslim world against those who insult Islam's holy Prophet Muhammad (PBUH).
Other protest rallies were also held in Pakistan by various Islamic organizations last week calling on the administration of Prime Minister Imran Khan to immediately expel the French envoy and sever ties with Paris. Protesters further insisted on boycotting French products.
Late last month, Prime Minister Khan forwarded a letter to the leaders of Muslim countries urging them to act collectively against growing Islamophobia in France and elsewhere across the West.
"The recent statements at the leadership level and incidences of desecration of the Holy Koran are a reflection of the increase in Islamophobia that is spreading in European countries," Khan said in the letter.
Also in a speech in the eastern Pakistani city of Lahore, Khan further emphasized that the lives of Muslims have been made difficult in France, and Western countries should consider the sensitivities of the faithful.
Khan has already scolded French President Emmanuel Macron for promoting Islamophobia by "attacking Islam," after the latter criticized Islam and defended the publication of sacreligious cartoons of the Prophet Muhammad (PBUH).
In a number of tweets the Pakistani premier also underlined that "This is a time when President Macron could have put healing touch & denied space to extremists rather than creating further polarization & marginalization that inevitably leads to radicalization."
Khan further accused European countries of ridiculing the holy prophet, allowing discrimination against Muslims and refusing to let Muslim women wear appropriate Islamic clothing.