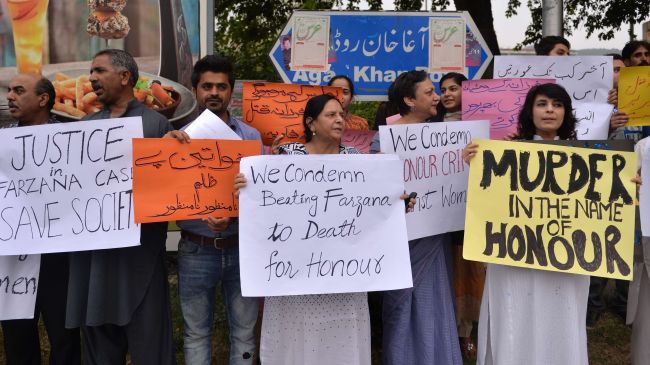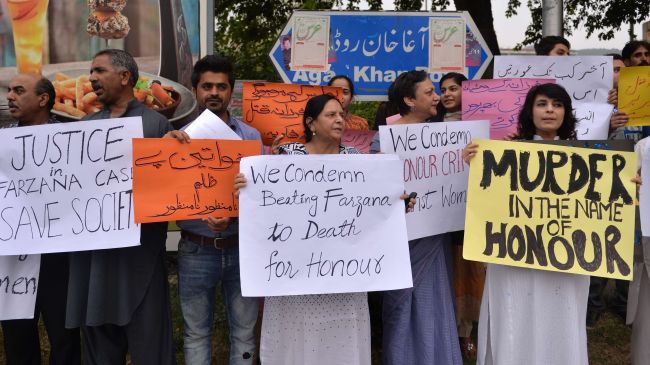 Human rights activists have protested in the Pakistani capital, Islamabad, against the killing of a pregnant woman who was stoned and beaten to death by her family outside a top court.
Protesters gathered in Islamabad on Thursday, expressing their shock at the killing and calling for more protection for Pakistani women.
On Tuesday, Farzana Parveen, who was three months pregnant, was pelted with bricks and bludgeoned to death outside the High Court in the city of Lahore by over two dozen attackers, including her father and brother, for marrying against their wishes.
The protesters shouted "Hang the killers of Farzana!" and "We don't accept this injustice."
"Violence against women is on the rise. Women are being killed in the name of honor," said Farzana Bari, an activist.
"The criminal justice system doesn't work. This particular incident was very brutal. Police were there and the poor woman was killed," she added.
Meanwhile, Prime Minister Nawaz Sharif condemned the "brutal killing," ordering the chief minister of Punjab Province to take immediate action.
Farzana's husband, Mohammad Iqbal, said that police just stood by during the attack, adding, "They watched Farzana being killed and did nothing."
Frazana's relatives had filed a case for abduction against Iqbal at the High Court.
Iqbal added that when he together with his wife arrived at the court to contest the case, Farzana's relatives were waiting for them and tried to take her away.
As she tried to free herself, they dragged her to the floor, stoned her and smashed her head, he added.
Police detained the victim's father, but other suspects have disappeared.
Honor killings are common in Pakistan. The Human Rights Commission of Pakistan says 869 women were murdered in honor killings in the country in 2013.