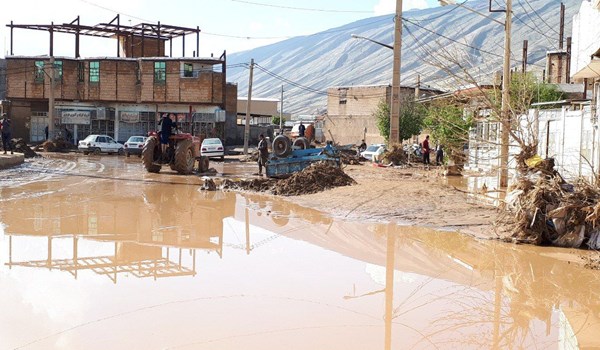 Pakistani political and religious groups launched a campaign across their country and abroad to collect humanitarian aid to help Iran's flood-stricken people.
Secretary General of Majlis Wahdat-e-Muslimeen (MWM) Allama Raja Nasir Abbas Jaffari asked party's foreign affairs department head Shafqat Shirazi to direct the MWM office bearers in Australia, Iran, Iraq, Ireland, Kuwait, Switzerland and the United Kingdom to launch campaign for Iran flood victims.
The MWM has also informed the Iran embassy in Islamabad that a special bank account has been set up by the party to collect the donations from across Pakistan to help the Iranian brothers and sisters suffering from massive flood in the Islamic Republic.
Meanwhile, Jamat Ahle Haram Pakistan has also announced to collect aid for the victims of the recent floods in Iran.
President of the party Mufti Gulzar Naeemi has said that they will collect humanitarian aid all over the country to help the Iranian brothers hit by the floods.
In a relevant development, the European Commissioner for Humanitarian Aid and Crisis Management Christos Stylianides earlier said "following the severe floods in Iran, we are allocating an initial amount of €1.2 million in emergency support to assist the most vulnerable communities."
The United Nations International Children's Emergency Fund (UNICEF) also said on Thursday that the "initial supplies from UNICEF are already on their way to Iran" to ensure that immunization and young child nutrition services are quickly re-established in the flood-affected provinces.
A plane carrying humanitarian aids by the German Red Cross also arrived in Tehran on Thursday to contribute to the operations.
Head of Iran's Forensics Organization Ahmad Shojayee said on Friday that the number of people killed in the recent devastating floods across the country has increased to 67.
"67 people have lost their lives in the floods in different provinces since the start of Nowrouz (the start of the New Iranian Year holidays on March 21) and all of them have been identified," Shojayee told FNA.
He added that 21 people have been killed in Fars province, 15 in Lorestan, 3 in North Khorassan, 8 in Golestan, 5 in Mazandaran, 5 in Hamedan, 1 in Khuzestan, 1 in Kermanshah, 1 in Semnan, 2 in Kohgilouyeh and Boyer Ahmad, 2 in Gilan (for landslide resulting from showers), 1 in Babol, 1 in Qom and 1 in Khorassan Razavi.
The tragedy started in the four Northern provinces of Mazandaran, Golestan, Semnan and North Khorassan on March 20. Thirty provinces of Iran have been hit by severe weather conditions since then.
Over 56,000 people were affected in various cities and rural areas in Golestan and Mazandaran as a result of heavy rainfall that hit the two provinces on March 19 and 20.
While the nation was shocked by the casualties and magnitude of destructions in the Northern regions of the country, another round of floods hit the country in the Western and Southwestern provinces on March 25.