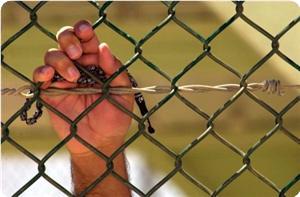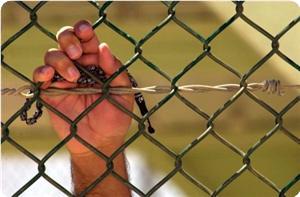 The family of Hajj "Abu Azzam Meri" is one of the Palestinian families who suffered a lot from the occupation, where his four sons were detained in Israeli jails and banned from seeing their children.
Haj Abu Azzam, father of the four prisoners, said to Ahrar Center for prisoners' studies and human rights that the Israeli occupation detained his four sons and deprived him from meeting them.
I always imagine my children in front of me, the father said wishing their release soon.
The four brothers detained in Israeli jails identified as: Azmi Meri, 50, was arrested before two months after searching his house, he is a father for 10 children and works in a factory.
Omran Meri, 28 years old, graduated from Annajah University, and works in a factory too; he is a father of 2 children.
Ekremah Meri, 27 years old, is a father of 2 daughters and his wife is pregnant. He graduated from Alzaytonah University and works in carpentry.
Haj Abu Azzam's older son, Azam Mari (Abu Abdullah), 52, was also arrested by the IOF, noting that he is a father of 10 children.
Abu Abdullah is one of the famous national leaders in West Bank, he was arrested in 1993 and sentenced 2 years and half then he was released to be re-arrested again and again many times under the administrative detention.
Salameh Meri, the brother of the four prisoners who was liberated by the prisoners exchange deal last year between Hamas and occupation authorities, spent 18 years in occupation jails.
Salameh was deported to Turkey and the occupation prevented his father from visiting him.
Salameh said to Ahrar center:" This is our house, my mother died 3 years ago, my dad is blind, all my brothers are in jail, and my father can't visit them".
Ahrar center's director, Fuad Alkhuffash said that the occupation tries to destroy the Palestinian families through arrests and Meri family is an example of that.
It is noted that Mari family had offered a Martyr, Adnan Mari, during the first Palestinian Intifada.