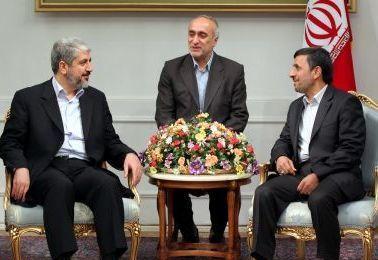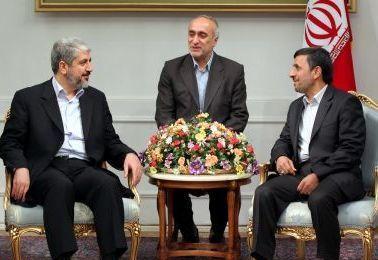 Palestine is forefront of all monotheists and justice seekers struggling against injustice and oppression, the Iranian President said on Monday.
He made the remark in the meeting with Hamas political bureau chief Khaled Meshaal who is in Iran to attend the 5th International Conference on the Palestinian Intifada.
"Resolving the Palestine issue is key to the settelement of many other problems of the world,' Ahmadinejad said, adding 'Palestine will be freed soon."
He underscored that peoples in the revolutionary countries should be careful about the arrogant powers' efforts to hijack the fruits of revolutions and deviate them from their right path.
"Regional countries can establish peace and security. The power of the US and Zionist regime power is on the decline,' he underlined.
Meshaal for his part, stressed that the Palestine nation is proceeding forward and the Zionist regime is more isolated than before.
"Palestinians are committed to continuing their resistance to the Zionist regime's occupation of Palestine," the Hamas official added.
The 5th International Conference on the Palestinian Intifada with participation of parliamentary delegations, headed by dignitaries, including several speakers, leading political figures and scholars from 50 Islamic and non-Islamic countries as well as leaders of several Palestinian groups opened in Tehran Saturday morning and ended Sudany evening.
The two-day conference focused on the motto of "Palestine, a land only for Palestinians".