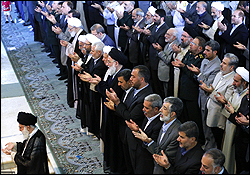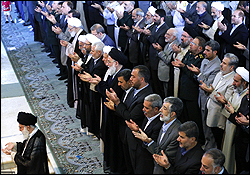 Leader of the Islamic Ummah and Oppressed People Ayatollah Seyyed Ali Khamenei has said that Palestine is the main issue of the Islamic world and has advised Muslim countries to maintain vigilance in the face of the plot to bury the Palestinian issue.
The Leader made the remarks during a meeting with a number of Iranian officials and ambassadors of Muslim countries in Tehran on Sunday.
Ayatollah Khamenei stressed the importance of understanding the sensitive situation in the region and maintaining vigilance in the face of the complicated plots of the front of arrogance.
"The main issue of the Muslim world is the issue of holy al-Quds (Jerusalem) and oppressed Palestine, which has been highlighted thanks to the Islamic Awakening," he stated.
"All Muslim governments and nations and political and cultural intellectuals should be vigilant about the dangerous plot to hide the main issue of Muslims from view and create a false reality through provoking division in the Islamic ummah," he added.
He also said, "While the enemy is trying to cause division among Muslims through playing up insignificant ethnic, racial, and religious differences and to create false threats through fabricating realities, the Islamic ummah should focus its efforts on practicing Islam, maintaining and promoting unity and brotherhood, and disobeying the will of the major powers."
In a sermon during the Eid ul-Fitr prayers, which mark the end of Ramadan, at the campus of the University of Tehran on Sunday, the Leader also said that recent developments in Muslim countries are unprecedented.
"With the grace of God, these developments, which will determine the future path of the Muslim world, will continue with this momentum," he stated.