Middle East
Palestine
Palestine says not informed of second UAE 'aid flight via israel'
The Palestinian Authority (PA) says it has not been officially informed about the United Arab Emirates' alleged dispatch of medical aid supplies to Palestinians via Israel after an Emirati plane said to be loaded with medical supplies landed in the occupied territories.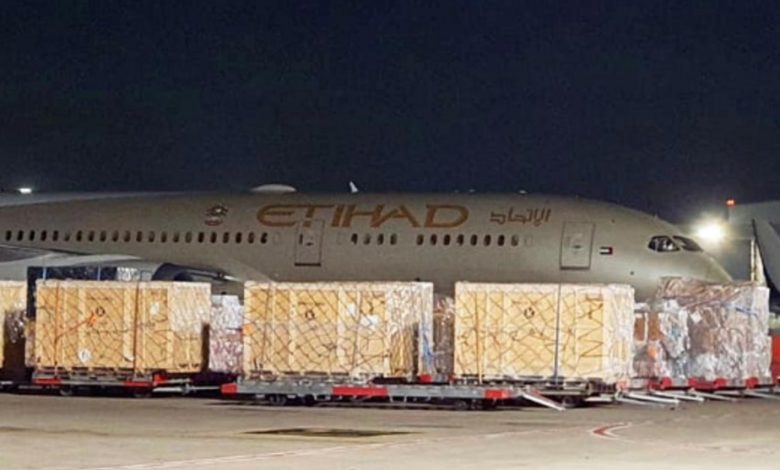 Footage provided by Israel Airport Authority allegedly showed an aircraft bearing the logo of the Abu Dhabi-owned Etihad airline at the Ben Gurion airport near Tel Aviv on Tuesday.
Palestinian sources, however, have not confirmed the contents of the plane's cargo if any, with PA Prime Minister Mohammad Shtayyeh saying Abu Dhabi had not told the authority about the reported flight.
Palestinians only got to hear about it in media reports, he added.
"If any country, whether Arab or European or international country wants to help us, we welcome that. We don't say no — as long as it is not conditional and as long as it is fully coordinated with us," Shtayyeh told reporters in the city of Ramallah in the occupied West Bank.
The Palestinians have no airports and typically receive aid via Jordan, Egypt or the occupied territories on the condition that they are notified in advance of the Palestine-bound cargos.
The PA rejected a similar alleged shipment of medical supplies from the UAE on May 19, saying likewise that the reported flight had not been coordinated with them.
According to the Israeli Broadcasting Corporation, the second Emirati shipment came via a direct flight from Abu Dhabi to Ben Gurion airport. The flight, it added, was coordinated through the Israeli ministry for foreign affairs.
The news comes amid warming relations between some regional Arab states and the Israeli regime, in what the Palestinians call a betrayal of their cause against Israel's occupation.
The most notable indications have been an October 2018 visit by Israel's culture and sports minister Miri Regev to the UAE and a November 2018 visit by Israeli prime minister Benjamin Netanyahu to Oman.
Saudi Crown Prince Mohammed bin Salman also said notoriously in April that year that "the Israelis have the right to have their own land."
Israeli foreign minister Israel Katz said last August that he was working toward "transparent normalization and signed agreements" with a number of Persian Gulf states.