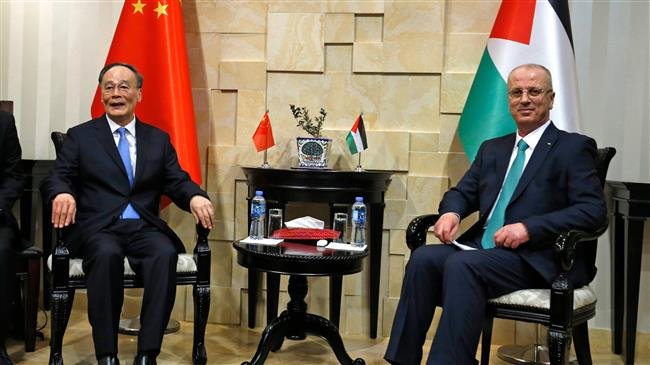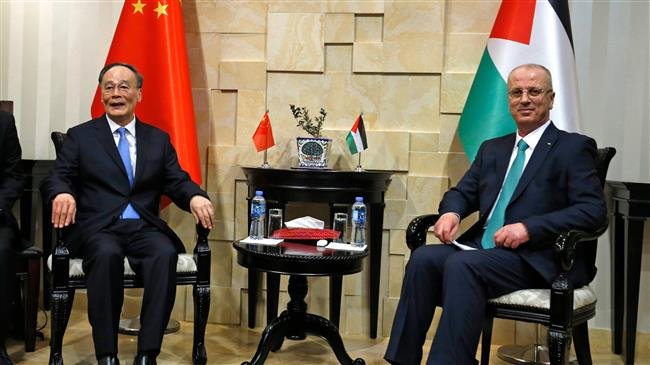 Palestine has called on China to play an active role in the so-called Middle East peace process and back President Mahmoud Abbas' initiative for ending the conflict with Israel, which seeks to replace the US with an international mechanism as the mediator in the decades-long confrontation.
In a post on his Facebook page on Tuesday, Palestinian Prime Minister Rami Hamdallah said that he had raised the issue in a meeting with Chinese Vice President Wang Qishan in the West Bank city of Ramallah.
The talks, Hamdallah said, focused on "enhancing joint cooperation and the latest political developments, including the Israeli violations against our people and the US unilateral moves to support such violations."
He also praised Beijing for its "continued" support for Palestine in several fields and the so-called two-state solution.
"I called China to support President Abbas' peace initiative and to hold an international peace conference in which China will be a key sponsor," he added.
Abbas presented his "peace" plan in an address to the United Nations Security Council back in February.
The initiative calls for holding an international peace conference with the participation of both the Palestinian and Israeli sides as well as active regional and international parties. It further underlines the need for establishing a multilateral mechanism in line with international law in a bid to settle the Palestinian issue.
Meanwhile, the Palestinian WAFA news agency reported that Hamdallah had complained during the meeting about efforts by Israel and the US to undermine Israeli-Palestinian talks and the so-called two-state solution, denouncing Tel Aviv's illegal settlement construction activities in the occupied lands and Washington's recognition of Jerusalem al-Quds as Israel's "capital."