Palestine
Palestinian Captive al-Qeeq: I will continue hunger strike until freedom or martyrdom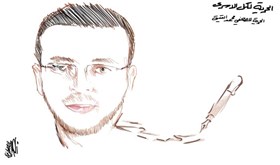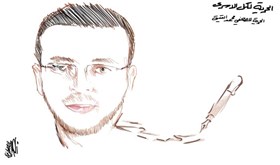 The Palestinian journalist captive Mohammad al-Qeeq, who has been on hunger strike for 65 days, declared that he is continuing the open hunger strike  until his liberation or martyrdom.  The head of the legal unit of Palestinian Prisoners Society, lawyer Jawad Boulus, who visited the captive in Afula hospital, said that detainee al-Qeeq was not surprised of the court's decision to keep the appeal suspended based on his health condition.
Boulus revealed that detainee al-Qeeq signed a sworn statement declaring that he chose willingly to go on hunger strike which may result in untreatable physical damage or may lead to death. The statement also says that the Israeli Prison Service as well as medical crews or any other party declare that they will not force-feed or provide treatment to him even if he passes out.
Boulus pointed out that the health condition of journalist captive alQeeq is still of the same critical level. He is too thin and sleepy most of the time with difficulty to speak in addition to pain all over his body, but he is still conscious, Boulus elaborated.