Palestine
Palestinian child martyred as Israeli regime warplanes bomb Gaza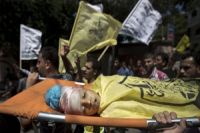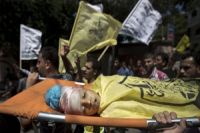 A 6-year-old girl has been martyred and several others were injured in fresh Israeli regime attacks on the besieged Gaza Strip.
According to Press TV, this comes as Tel Aviv's warplanes hit several residential areas across the northern and eastern parts of the Gaza Strip on Friday
Palestinian sources say nearly a dozen people were also wounded in the deadly attacks.
Initial reports say the renewal of the fighting has forced thousands of people in eastern Gaza to flee from their homes.
The end of a 72-hour ceasefire prompted an order by Zionist regime Prime Minister Benjamin Netanyahu to attack the coastal enclave again.
In retaliation, Palestinian resistance fighters have fired rockets and mortar shells into Occupied Palestine since this morning, wounding three Israeli regime forces.
The Palestinian resistance movement Hamas says all Palestinian factions agreed not to renew the ceasefire, blaming the illegal Zionist entity for refusing to meet their demands.