Palestine
Palestinian demonstrators urge end to israel occupation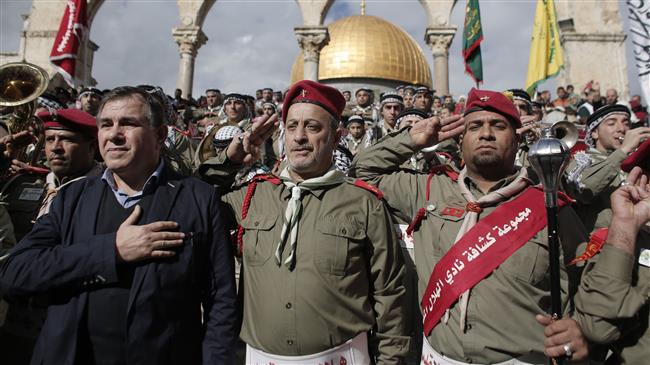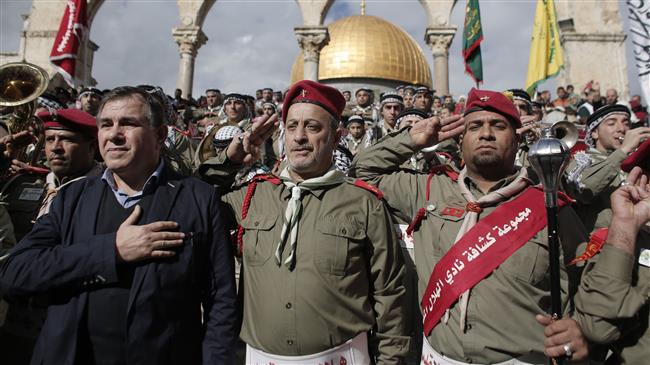 The Palestinians have reiterated their call for an end to the Israeli occupation of their territories during a demonstration to mark the birthday of Islam's holy Prophet Mohammad (Peace be upon him) in East al-Quds (Jerusalem).
The demonstrators on Sunday marched on the al-Aqsa Mosque in East al-Quds to commemorate the birthday of Prophet Mohammad (PBUH).
The march, however, gained momentum as an Arab member of the Israeli Knesset, Ahmed Tibi, joined the crowd. A number of other Palestinian leaders also attended the rally.
During the rally, Tibi raised the Palestinian flag in the al-Aqsa Mosque compound, which has witnessed violent clashes between Palestinians and Israeli forces in recent months.
Tibi insisted that the holy site as well as the whole city of al-Quds belong to Palestinians. He also criticized the United States for rejecting a UN Security Council resolution on a Palestinian state. The Knesset member criticized Washington's double standards on the Palestinian nation's rights.
The Knesset member's participation in the rally triggered cheer and excitement among the demonstrators as many chanted slogans in his support.
The participants in the gathering also called for an end to disrespectful behavior toward Prophet Muhammad (PBUH), whose birthday falls on December 4, according to the Sunni Muslim interpretation.
The development comes as Israel continues to restrict movement of Palestinian worshipers to the al-Aqsa Mosque.
Over the past decades, the Tel Aviv regime has tried to change the demographic makeup of al-Quds by constructing illegal settlements, destroying historical sites and expelling the local Palestinian population.