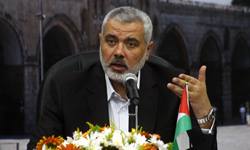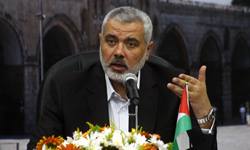 The Palestinian government asked Egypt's President-elect Mohammad Mursi to remove the siege of Gaza after the Islamist ascended to power in the first presidential election since the fall of Israel's ally Hosni Mubarak.
A political advisor to Palestinian Prime Minister Ismail Haniyeh urged Mursi to reopen the Rafah border crossing to end the siege of Gaza which, he said, has caused deep pain and agony among the residents of the Palestinian enclave.
"We hope that the first action to be taken by the new Egyptian president will be the removal of the siege of the Gaza Strip, reopening of the border crossings and facilitating transit of the construction materials and financial aids dispatched by international Arab organizations for the reconstruction of this war-stricken region," Yousef Rezqeh said.
He further stated that the win of the Islamic candidate has deeply gladdened the Palestinians, specially those in Gaza.
The Palestinian prime minister's advisor said although it is still soon to talk about the degree and type of Mursi's aid and assistance to the Palestinian cause, "we are ensured that Egypt will support the rights of the Palestinians because its people want an end to the occupation of Arab lands".
Mursi said in an exclusive interview with FNA hours before the official announcement of his win in the election that materialization of the rights of the Palestinian people is highly crucial, and stressed the necessity for revising the Camp David Accord with Slaughterer Israel.
"Our policy towards Israel will be a policy based on equality since we are not weaker than them in any field and we will discuss the issue of the Palestinians' rights with the related sides since this is highly important," Mursi told FNA on Sunday.
"We will revise the Camp David treaty," he said, adding that all of these issues should be implemented by governmental bodies and the cabinet "since I will take no decision by myself".