Palestine
Palestinian Hamas Leader Invited to NAM Summit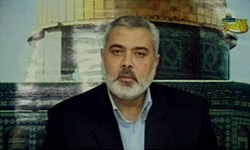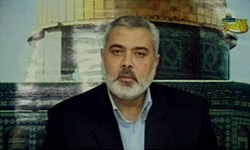 Hamas Prime Minister Ismail Haniyeh has been invited to attend the 16th heads-of-state summit of the Non-Aligned Movement (NAM) in Tehran next week, his office announced on Friday.
Palestinian news agency Ma'an quoted Haniyeh's office as saying that Haniyeh, who heads the Hamas administration in the Gaza Strip, has been invited to attend the Tehran summit meeting at the end of August.
Tehran has also invited Palestinian President Mahmoud Abbas, whose forces govern the occupied West Bank, to the summit. Abbas has said that he will attend the meeting.
Haniyeh has yet to say whether he will attend the summit, Ma'an said.
The 16th NAM summit will be held in the Iranian capital, Tehran, from August 26 to 31.
NAM is comprised of some 120 member states and 17 observer countries.
NAM is an international organization of states considering themselves not formally aligned with or against any major power bloc. NAM is the largest grouping of countries outside of the United Nations.
NAM member states represent nearly two-thirds of the United Nations' members and comprise 55% of the world population, particularly countries considered to be developing or part of the Third World.